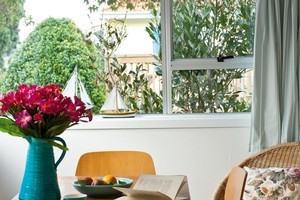 Buying a bach is widely regarded as the Kiwi dream - and it's one that Hamiltonians Marie and Barry Nicholls fulfilled when they bought a place at Raglan.
About 12 years ago, the couple bought a charming cottage with great views of the estuary, despite it needing some work.
"The interior was a challenge, but luckily we like a challenge," says Marie.
Because money was tight, they made few changes to begin with but found that just removing the blinds and net curtains opened the house out to the view. "It was a small change," says Marie, "but one that transformed the feel of the bach."
Early on they also repainted all the rooms but it wasn't until quite recently that they made any structural changes. "Barry made the front three rooms of the bach into one open-plan dining/living area, and opened up the kitchen to the view," says Marie. "We pulled up the carpet and found beautiful tongue-and-groove floors underneath."
Creating the sort of interior look they liked was never going to be a problem given that Marie owns Zinnia, a store specialising in new and vintage homewares and gifts. While attending auctions to buy pieces for the shop, she also managed to pick up some great stuff for the bach too - leading to its retro look.
"It happened accidentally," says Marie. "The retro cane coolie chairs were found at church fairs for around $2. That started me on the retro theme. It was fun finding pieces to decorate with and one piece often led to another. Because there's only one bedroom, the 1960s bed-settee was a practical way to accommodate family and friends - for sitting and sleeping."
Marie has found many of her treasures locally at secondhand shops, antique stores and church fairs. "Before you know it, you have a collection," she laughs. A group of shell boxes is one of her favourites and they're complemented by a shell lamp bought at auction.
Not all of the items on display in the Nicholls' bach are vintage though. Some new pieces augment the retro collection, including a brilliant blue vase and bowl made by a local ceramicist.
Marie also has a few cushions made by Limited Vintage, a Kiwi company that uses recycled wool blankets and felt to create one-off cushion covers. Marie's favourite cushion is decorated with labels from old blankets. "It's a history of blanket-making in New Zealand."
Style tips:
Flight of fancy: Seaside baches lend themselves to marine themes. Marie has collected shell boxes and is building up a flock of ceramic seagulls that hangs above the door into the sun room.
Key colours: Using interior colours that reflect the
environment gives homes a relaxed, serene feel. The Nicholls use blue and white extensively to reflect the sea and sky.
Break out: While you might decide to theme a room or your house, don't stick too rigidly to it as different looks can still work together well.