These days, your bathroom can be what ever you want it to be. Designer Mark Bickerstaffe gives Viva a peek into their future.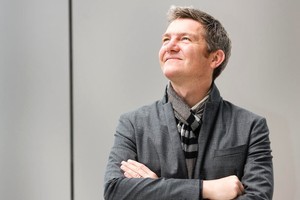 British-based designer Mark Bickerstaffe is not as well known as his former business cohort, James Dyson, but his mission is also to make the lives of frazzled domestic goddesses that much easier. So far, Bickerstaffe has designed vacuum cleaners, jugs, washing machines and lights. Now, as new product development director (kitchens and bathrooms) for Kohler in Europe and Asia Pacific, his attention is on loos and tapware. Bickerstaffe believes that determination and resilience are a vital part of innovative design "because the world is made up of naysayers". Viva caught up with him during a recent visit to New Zealand.
As a child were you interested in design? I was always drawing and this was soon combined with another obsession - war games. Dad is an engineer and, as I grew older, I got into cars and motorbikes. Before I could drive, I was doing up an old car.
This practical nature led me into the whole process of "making". Design is fundamentally about making things that are functional and desirable.
Tell us about your work with James Dyson. I met James at the Royal College of Art. After graduation, I got a call asking if I wanted to join his team in Bath. This was before James had become successful; there were four or five of us in the coach house at his home. It felt like a family. We did everything: testing ideas, improving the design, the engineering drawings and graphics. We also learned about manufacturing, working with suppliers for tooling and injection moulding. Dyson's gift was championing customer needs and to ignore conventional thinking. He was shrewd, determined and sometimes brutal in this pursuit.
Dyson has called you a man with no weak points (except Ducati motorbikes). I'd never say that! We all have our weaknesses. What James taught me was to understand what your customers really want and then never to give up. Ideas have to be nurtured, protected and sometimes given CPR to bring them through.
Where do you live? Outside Bristol, with my wife Katie and our two young daughters in a Georgian ex-boarding house (circa 1850). It needed complete renovation and we've transformed it into a fantastic family home with ultra-modern spaces fused with beautiful, original detailing. It's a labour of love with some way to go.
Describe your own bathroom. My master bathroom is bigger than my bedroom. This is because, in reality, you do more in this space. We have a large walk-in shower big enough for our family of four with rain, sheet and massage overhead jets, water tiles [where the spray comes out of a tile] and hand shower controlled by the Kohler DTV digital shower system. We used large grey steel/slate tiles on floor and walls and have a Kohler weir shower tray, making the floor completely flat.
We have two Kohler Antilia glass vessels with Kohler Purist taps set on to a custom-made wall-hung synthetic stone cabinet with huge storage drawers that are invisible when closed and that bridge to a bath area in the same material, with a large inset rectangular bath. The flooring is walnut timber, which joins to the tiled area around the shower. A mix of materials and finish is satisfying aesthetically and emotionally.
What is your design mantra? Beauty, innovation and soul. Seeking beauty is a high goal but what I stress is it's all about the eye of the beholder - design that's relevant to your customer, not simply good design for you. Innovation is essential. Products have to move us forward. And soul reflects the emotional satisfaction, authenticity and character that great products should possess.
On your visit here have you seen any design that impressed you? The Lumber Chair by Fletcher Systems caught my eye.
What have been the greatest innovations in your career? Discovering the multi-cyclone and counter-rotating washing machine drum technology at Dyson that led us to create whole new generations of better-performing products. At Kohler, the Flipside hand shower brought together four great new water experiences with intuitive, iconic design. The Kohler Mira Azora Electric Shower broke the market paradigm of electric showers as "appliances" by introducing a simple design.
You say bathrooms of the future will be able to interface and have smarter storage. How? We're now able to integrate technology into the materials so ceramics, wood and glass can become smart and multifunctional. It can be hidden and only becomes visible when you need it.
Storage has moved to "organisation"- everything has a place and is made available to you in a planned way. Bathroom design has matured so that now we are designing specific hardware and solutions. We are using the space under the bath and basin. This allows us to keep more in the bathroom, yet see it only when we need it.
Why is bathroom hardware so expensive here when I can buy a shower head so much more cheaply on the internet from China? Logistics, regulations and market size. Distance from the manufacturing location adds cost. When you have a small market with specific legal requirements and practices for installation, this also makes it difficult for manufacturers to provide the right product at a good price.
Major branded manufacturers offer better inherent quality and performance most of the time because they invest in research, development and manufacture. That way they can guarantee products will provide a good functional and emotional experience for many years. In aesthetics this is also true.
How do you bring "emotional content" to a bathroom? By using our ever-improving understanding of materials to create better products. One example is a heated toilet seat. In a cold environment sitting down, naked, on warm, hygienic materials is welcoming. Also, by making other "soft" touch points warm - a towel rail on the front of an under-basin cabinet. There are now water-tolerant wooden materials that can cope with under-floor heating and synthetic materials with stone content to give a soft feel with good properties for wet areas.
Designing a bathroom that allows you to bring individuality into it makes it emotionally satisfying.
How can I future-proof my bathroom?
* Have electrical supplies under the floor, in the walls and roof space. Increasingly, electricity will be used to improve the efficiency of bathrooms.
* Ensure your wi-fi works in your bathroom; add LAN cabling.
* Plan lighting ahead, especially in the basin, bath and shower areas. You need soft, warm lighting around your face when looking in the mirror.
* Add a second water supply pipe to your toilet so that you can introduce grey water toilet flushing in the future.