From her sewing machine to Peter Saville album covers, fashion designer Katie Battersby tells Viva about some of her favourite things.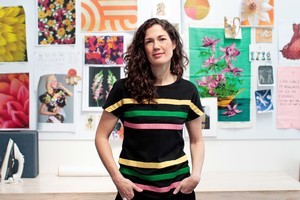 Katie Battersby launched her namesake label in 2010, quietly building up a staunch following with those who like their clothes to have an artistic point of difference. Each piece is handmade and features appliques made from vintage fabrics, with an eye on decorative arts - a reflection of Battersby's background studying at Elam School of Fine Arts. Initially focusing on T-shirts with her other bespoke line Binkie, her Katie Battersby label offers full collections with an intelligent, witty take on fashion. She tells us about some of her favourite things, from heirloom sewing machines to the magic of public libraries and Peter Saville.
10 FAVOURITE THINGS
1. Kingsland workroom
I've just moved out of the bedroom! My husband has been very tolerant of my fabric hoarding and me trying to run a business out of our tiny bedroom. He says he misses the warmth my fabrics provided as they were floor to ceiling insulation and that the room feels somewhat empty now.
2. My fabric
My fabric shelf is a bit like a Sampler box of biscuits, except instead of sugar and spice it's made of portions of woven history. The problem with vintage fabric is that it's a finite resource and you can never have enough of it - much to the disdain of my accountant. But then, when has collecting anything ever been an entirely rational pastime?
3. Vivienne Westwood coat
I bought it in Liberties of London on sale. I love the weight of it and it reminds me of our first trip away from the kids when we went to Dusseldorf. Perfect for a European winter. Here I can get away with very little underneath it.
4. Allotments
I love my garden, it is spacious and lush. I think, however, I have spent too much time watching Hugh Fearnley-Whittingstall sauntering around allotments. The whole communal gardening and sharing of produce appeals to me. I, of course, love The Good Life attire: gumboots and 70s frocks that one would have to wear while pottering among the shrubs.
5. My Elna sewing machine
A design icon. My mum bought hers 30-odd years ago and I have used it for at least the past 20. Mum used to sew everything; our clothes to our curtains. The machine has been serviced once when I reamed the living daylights out of her at Elam trying to sew leather punching bags. She is ever-faithful.
6. Peter Saville album covers
The New Order packaging was equally as good as the albums; as were Joy Division, Pulp and Suede covers. The thing about Peter Saville covers is they take you some place else. There is a kind of remoteness and sparseness that makes space for what's inside. That's the only thing I don't really like about iPods - music loses its packaging.
7. Auckland Public Libraries
It's the whole library experience. The searching, the quietness, the anticipation, the excitement when you find what you've been looking for, and especially when you discover the gems that you weren't. There is nothing more satisfying than lugging a pile of heavy books home - far more rewarding than Googling.
8. Farmgate wines
We have spent a lot of time in Hawkes Bay and I love Farmgate wines. The labels include photos of local artisan food producers - I particularly like the power stance of Noel Crawford, the saucier who is featured on their delicious gewurztraminer. Every time I have a glass it takes me back there.
9. The kitchen table
Our table is the hub of the house, we eat, fold washing, and do homework on it, but most of all it is a workbench for an array of art activities - cardboard AK47s, Star Wars masks, life-size Doctor Who Daleks, plasticine nativity scenes, zombie drawings, fairy collages, not to mention the daily Lego invasion. We love making stuff and messes together.
10. Prada bag
My vintage Prada bag from Scotties Recycle. I can't ever imagine owning a new one. I love the fact that this one has been pre-loved. I like to imagine who might have bought it, where and when. It is the perfect mummy bag, totally bottomless yet eternally stylish. Cadmium yellow leather - only in Italy.