Put the finishing touches to your al fresco dining set, says Greig Morgan.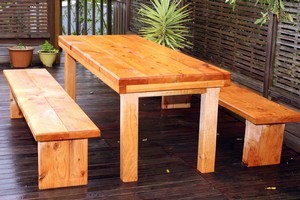 Last week we made an outdoor dining table in the hope the weather co-operates so you can have Christmas dinner al fresco. Today I'll show you how to make bench seats to go with it. I've chosen macrocarpa, both for its looks and its ability to withstand the elements. If you choose to leave it unstained, over time it will weather to a soft silver-grey colour.
Step 1
Seat: Match the grain of sleepers as best you can, then place them together on their edges. Measure and mark both edges in the centre (25mm) then make evenly spaced marks along the length. Using a 10mm drill bit, drill about 100mm deep on both edges, making sure to drill straight and true.
Step 2
Cut the D10 steel rod dowel to lengths of about 185mm using a hacksaw. Glue the holes and tap in the dowels on one of the boards. Run glue along both edges. Line up your dowel to the holes and cramp together to make a strong joint.
Step 3
Square up both ends, draw a line and cut along the waste side. On the underside, measure and mark 150mm in from both ends, plus the thickness of the board, and 40mm in from either side. Set the hand router and rebate to a depth of 15mm for the legs to fit in. Square up the corners of the rebate using a chisel.
Step 4
Legs: Cut four lengths of 200x50mm at 395mm. Each leg is made up of two pieces. For each leg, glue both vertical joints, rub together, and cramp. Fix both pieces together by putting in a 75mm screw on an angle for extra strength.
Step 5
Measure the length of the rebate on the seat. You will need to cut the leg to fit nicely into the rebate. Before you glue and screw the leg, using 75mm screws skewed in on an angle, you could use the router to get a moulded edge for a nice finish.
Step 6
Bracing: With a piece of leftover timber, cut the board to 50x50mm x 300mm long, then glue and screw the bracing either side of each leg.
Step 7
Plane off the sharp edges on the undersides of the seat. Run a moulded edging around the top of the seat. Sand then stain or leave it to weather in its natural state.
Materials
4 2.1m Macrocarpa sleepers 200x 50mm (x 2 benches)
2 2.1m Macrocarpa sleepers 200x50mm (legs & bracing for x 2 benches)
Box 75mm stainless screws
Exterior glue
D10 steel rod (dowels)
Tools
Skill saw
Hand router
Builders square & pencil
Screw gun
Sash cramps
10mm drill bit
Tape measure
Plane
Hack saw
Hammer & chisel