Noelle Davies' homeware store focuses on pieces from the Continent. Here she lets Viva in on her loves.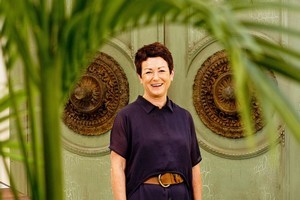 As owner of homeware store Le Monde - French for "the world" - Noelle Davies combs the globe for beautiful products and interesting interiors brands to showcase in her Parnell showroom. From vintage French perfume bottles to rattan wing chairs, metal side tables to Parisian ceramics, Davies' distinctive aesthetic combines European chic with industrial design and Cape Cod-style furnishings. Her childhood lent itself to an early appreciation of design, growing up surrounded by fabrics in her family's curtain shop - now, fabrics are often her first source of inspiration. She tells us more about her design approach and some of her favourite things.
10 FAVOURITE THINGS
1. Miami Jewel
A stunning contemporary range of hand-made jewellery by Miami-based New Zealander Phili Bullard, called Miami Jewel. The mix of macrame with semi precious jewels hints at the styles I wore in the 1970s. I wrapped a couple of the "love" bracelets for our daughter to take away with her overseas recently.
2. Antique stool
I love blending old with new. I inherited this exotic stool, which was originally covered in purple velvet. A friend and I ended up re-upholstering it - that's the magic of fabric to transform, which I just love.
3. Cultural background
I attribute my love of animal prints and the exotic to my adored great-grandmother. She raised her family in India before immigrating to New Zealand, bringing with her the spoils of her shooting expeditions. A stuffed, growling tiger greeted you at the door of her home and an alligator head was mounted in the hallway, all of which left a lasting impression on me.
4. My Italian Joy by Carla Coulson
Design books serve as such a divine source of inspiration. My most recent favourite is My Italian Joy by Carla Coulson. I have always loved the thought of settling in the south of France, but she made me fall in love with Italy - her photos and words capture the essence of life there.
5. Family sailing trip
My husband and I share a love of sailing. So, while our children were still young we took a few years out and set sail for the Pacific. It was an amazing adventure that left a lasting impression on our family that will cement us forever.
6. Fabric
Fabrics have always been my first source of inspiration. Once I choose a fabric for a space, everything else falls into place. I love layering patterns and textures. My latest favourites are from the Soleil Bleu Lodge Collection, Ralph Lauren Home, and anything with an animal print because this always creates a sumptuous look.
7. My mother's 1920s engagement ring
I love the connection I feel towards my late mother when I wear her jewellery. In particular, a 1920s engagement ring which originally belonged to my great aunt.
8. Palais-Royal
The Palais-Royal, originally called the Palais-Cardinal, is a breathtaking palace and an associated garden located in the 1st arrondissement of Paris, opposite the north wing of the Louvre. Travel invigorates and inspires me.
9. Enjoy flameless candles
We have just launched these hand-crafted, flameless wax candles. They have three LED bulbs that flicker randomly and are so realistic. I have three at our front door set on a timer, so when I arrive home after late from work I am welcomed home with flickering candlelight.
10. My 1960s apartment
Recently my husband and I have downsized to an apartment. The huge north-facing decks allow us to still host the large family gatherings we love most. The only activity better than relaxing on the deck and soaking up one of Auckland's finest views of the harbour is actually being out sailing on it.
* Le Monde, 69D St Georges Bay Rd, Parnell, ph (09) 377 9518.