Social networking even pops up at farmers' market trade tables, writes Meg Liptrot.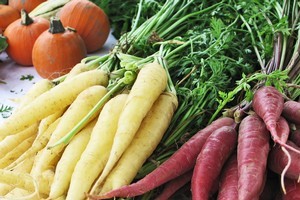 One of the joys of summer is the abundance of produce that can be harvested from even the smallest backyards. Small growers now contribute to the many farmers' markets popping up around the country. As a nation, we have taken to these with gusto.
The key to a good farmers' market is that the produce is grown locally, and a good portion of it is organic, or at least spray-free. Forget the crazy supermarket mark-ups for organic produce. You should find a much more wallet-friendly range at your local market.
I favour farmers' markets because you get to chat with the grower or someone related to the farm.
At markets you also get a chance to support a local producer or small farmer, and get tips on how best to care for and prepare the produce you are buying. As our farmers' markets develop, regional strengths will emerge, and certain markets will become known for their specialties.
In some cases, this is happening already. The glamorous Matakana Farmers' Market has a number of stalls selling unique products, from the dark grape juice grown up the road at Heron's Flight vineyard to Harry's smoked garlic and onions, still in their skins.
Clevedon Village farmers' market has wonderful buffalo mozzarella, produced locally by Richard and Helen Dorresteyn, who founded the market.
Avondale market has a strong Pacific Island and Asian influence, with a remarkable array of fresh produce sold cheaply (though it's not usually organic). I've even bought fresh turmeric root there, just to give it a go.
My local, the Grey Lynn Farmers' Market, supplies a delightful local honey produced by Lynn and Carol a kilometre down the road. Their bees sip nectar from a chocolate box-array of flowers grown in Cox's Bay backyards.
Some markets encourage those who produce a surplus from their own gardens to join a stall set up for the community. This is the case at the Grey Lynn and Waiheke markets, which host stalls from a grassroots organisation called Ooooby (Out of Our Own Backyards).
Ooooby has a strong online social networking theme. One of this group's cool ideas is to set up a "trade table" at a market with an Ooooby sign where people swap produce for something they fancy on the table, or offer koha in return for the produce.
The most simple, obvious way to supplement your own vege or fruit-growing efforts is over your own fence. Offer your neighbour a bunch of parsley for a couple of tomatoes, perhaps? Or feijoas for a jar of chutney? Next time we grow several bunches of bananas at home, I might just take up an Ooooby devotee's suggestion and visit their table at our farmers' market.
* Visit farmersmarkets.org.nz or ooooby.ning.com