Make domestic camping chores a little bit easier with this clever carrier for dishes, explains Justin Newcombe.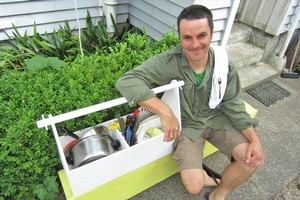 I love camping. Relieving yourself of the burden of home comforts can come as a surprising relief. We spend so much of our lives collecting stuff that it's a surprise to wake up empty-handed and feel liberated.
I'm always pleased to find the Earth hasn't stopped spinning just because I missed a TV show or haven't checked my emails every 30 seconds.
Even though those lazy summer days will be spent between the beach and the icecream truck there are still a few housekeeping matters to attend to. Getting the kids showered and into bed looms large at the beginning of any holiday, although as the holiday progresses I find this usually sorts itself out.
Cleaning clothes can be another chore and usually gets dumped on the women (I think I'm right in writing this). And the dishes - at least twice a day - can also be added to the list of camp chores.
We've always ended up using a bucket to put plates, cups, pots and pans, dish soap, scrubber, tea towel and cutlery into.
So I'd like to think of this project as a bit of an evolution on the bucket, an upgrade if you will.
I've taken my basic toolbox design and added a few compartments to carry everything associated with the dishes. But the real benefit of this contraption is it makes packing, storing and lugging cups, plates and cutlery to the camp kitchen (or stream or tap if you're back to basics) easy.
I've made a few of these now, so this one took only a couple of hours. It is a great project for using up any plywood off-cuts you may have saved. Now that I think about it, I may just knock one up for the food, too.
Step 1
Figure out how big to make your caddy. Make sure it will fit your plates, bowls, pots and pans as well as cutlery and soap. The handle will double as a towel rail.
Step 2
Cut bottom and side timbers to size. For ripping down ply, I use a small skilsaw and a section of square pipe as a guide.
Step 3
Clamp together, mark and cut the two end pieces. These two end panels are made up of a square with a triangle joined to it and are what the handle is attached to.
Step 4
Mark out and drill the handle hole. The hole I drilled is slightly too big for the dowelling because I like the box to swing on the handle.
Step 5
Glue the joins on the box and assemble using masking tape to hold the pieces together. Insert wood screws.
Step 6
Insert the dowel handle then drill a hole at each end just big enough to jam a small dowel pin into. This will stop the handle sliding in and out of the hole.
Step 7
Insert, glue and screw spacers to form the compartments inside the box.
Step 8
Sand and paint with at least three coats of paint. Make sure you keep moving the handle around while the paint is drying so it won't stick.