Laura Kirar's creations take inspiration from the high points of 20th century design.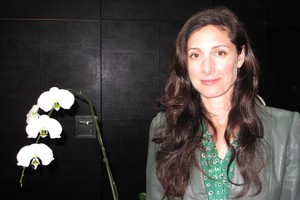 Hanging on to your grandmother's old vanity is hardly the advice you'd expect from a woman who designs top-end furniture for world class companies. But New York-based interior and architectural designer Laura Kirar breaks the mould when it comes to conservative notions of how to decorate a room.
When we meet for a chat, the lithe-limbed Kirar, whose brunette waves fall effortlessly down her elegant back, is as poised and soignee as the New York Social Diary has described her.
She is also refreshingly unpretentious and articulate about her creative aesthetic without using cryptic "design-speak".
Kirar has been in Auckland this month as a guest of Cavit & Co who sell her to-die-for furniture. Her New Zealand visit came at the end of a month-long tour of San Francisco, Beijing, Nanjing, Sydney, Melbourne, Auckland, Wellington and Santiago to talk about her work, including talking to design students in China and Chile.
Since graduating from the Chicago Institute of Art 19 years ago, Kirar - who lives in an eclectically decorated apartment on the Upper East Side with her husband and blind cat - has risen to the top of her game.
Her Laura Kirar Design company, based in New York and Miami, holds 13 licences for prestigious brands including her largest, Baker Furniture, for which she has designed nearly 200 pieces of furniture, lighting and fabrics.
Kirar's iconic barrel chair, designed for McGuire, is the best-selling chair in the company's 73-year history. Other design triumphs include custom Kallista bath fixtures for the Westin Hotels' global spa rebranding, her handwoven Tufenkian rugs and lights for Boyd Lighting.
But the creator of these opulent objects says one her biggest challenges is discovering her clients' true likes and dislikes, then convincing them to trust themselves.
"People are often afraid to trust what they like then have the confidence to collect it. They think they should have matching suites of furniture in the same shape and colour. I personally don't find homogenous form very interesting."
Instead, collected, curated spaces, which are a great way to express your personality, will be a future interiors trend, says Kirar. "I love the idea of incorporating your grandmother's vanity or another old piece you've been given into an interior with modern furniture and articles you've collected on your travels."
That's not to say that a room full of clutter will cut it.
"It's the art of things chosen well, rather than often," says Kirar, who aims to create a dialogue between pieces within a space.
The "arty" eldest of six siblings, Kirar was raised by parents who encouraged her creative instincts from early age.
Her school teacher father painted canvases in his spare time and her mother and grandmother were wonderful seamstresses.
"Everyone was always making something at home. There was always a sense of creative motivation - an attitude that you could try anything. It took me some years to realise that many other families were not like that."
Kirar realised her career might be in design rather than painting after she sold some woven metal light sculptures while still at art school.
But she had already begun dabbling with the dynamics of space and arguably had her first design epiphany a few years earlier when she made her first large sculpture at the age of 16.
"It was a life-sized plaster cast of my younger sister - part of a narrative including a pop art painting. The sculpture was a revelation to me. It felt so confrontational. Unfortunately, I think my sister still has a small scar from where I cut her out of the cast."
Kirar describes her designs as a layering of decorative periods and cultural influences.
"I try not to be literally derivative. I'm inspired by art, jewellery and nature and I will look at different design eras for inspiration."
The early 20th century Vienna School and its modernist artists, including painter Gustav Klimt and architect Josef Hoffman, are strong influences; Japanese, Chinese, Danish Modern and 1940s French aesthetics are also apparent in her work. "My l'eau commode for Baker is a good example. The proportion and overriding personality of the piece feel 1940s French. But the top is Cinnabar lacquer, which references both Chinese and Japanese antiques, and the carved body eludes to Japanese brush pot and mid-century Danish modern."
The barrel chair was inspired by a 1950s Italian cuff bracelet. Kirar liked the idea of something hugging the wrist or the body and says the circular designs on the sides and backs of the chair reference 80s pop art.
To someone whose mantra is to make one piece well in 10 days, not 10 mediocre pieces in one, the artisan touch is important in her pieces, some of which are handcrafted in countries including India, Portugal, Mexico, Belgium, Italy, Java and Nepal.
An avid collector of vintage clothes and fabrics, Kirar loves antiques, but is no fan of reproductions.
"It's hard to find a reproduction that's as good as the original. I prefer a beautiful new thing."
* Laura Kirar's furniture and accessories are available at Cavit & Co in Parnell.