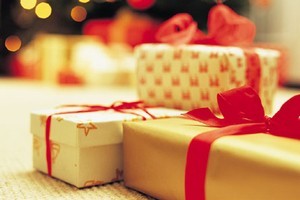 Is it too early to think about wrapping Christmas presents? Definitely not.
Jane Means, hailed as the UK's 'Wrapping Queen', is a former florist and has been wrapping presents on a professional level for over ten years. She runs gift wrapping courses covering the basics, tackling bottles, circular items, awkward shapes, Japanese pleating, ribbon tying and bows. Here, she shares her top tips for wrapping Christmas presents.
1. Tackle awkward shapes: Use flexible wrapping instead of paper for difficult shaped objects. Look to cellophane, tissue, leftover fabric remnants and netting to conceal the tricky package. You can buy cellophane by the metre from florists or for really large awkward shapes, buy a disposable paper tablecloth from a supermarket. It gives you a really big sheet to go around the large item.
2. Add foliage: Wrap something in brown paper and add greenery; A fir tree, rosemary, laurels, bay leaves and ivy are good because they are long lasting and smell nice. Write on an ivy leaf with a gel metallic pen to create a gift tag.
3. Scent your present: Spray your paper or ribbon or both with Christmas fragrance. I generally spray the ribbon because it can sometimes mark the wrapping paper. I use a spray featuring cloves and cinnamon.
4. Utilise old decorations: Wanting to get rid of last year's decorations? Tie old - (or inexpensive) Christmas decorations and baubles into this year's presents.
5. Pimp your paper bag: You can re-use plain carrier or brown paper bags. Using a hole punch, create a hole at the top and tie through some ribbon to create a really effective gift bag. It is a much cheaper option to buying gift bags and brings in the recycling element.
6. Rustic chic: Sticking with the rustic brown paper theme, tie in sticks and twigs onto your gifts. Wrap wire around a pine-cone, twist it around the sticks and onto the ribbon.
7. Box it: When wrapping boxes, use double sided tape for a professional-looking final result.
8. Juvenile humour: For children, tie in candy canes and/or balloons. To be really popular, use a helium balloon so long as the gift is not too lightweight. A helium balloon from a party shop can last about three days.
9. Flat items: I find you go to a shop, buy something and it gets put into a depressing flat bag. Jazz it up; Place the item into the flat bag, fold the top over twice and stick it down with double sided tape. Then, either go around with ribbon and tie a bow or punch a hole and thread the ribbon through to seal the top.
10. Gift vouchers: When you're giving a gift voucher, don't write on the envelope. Use this as a blank canvas. Tie some ribbon around the envelope; tie in a tag and decorations so that it automatically seems more like a gift.
- THE INDEPENDENT