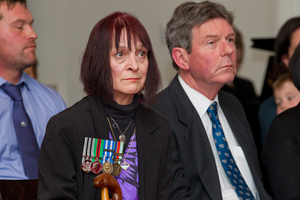 The mother of an SAS soldier honoured for his bravery in Afghanistan says nothing will compensate for his death but he "wouldn't have had it any other way".
Lance Corporal Leon Smith, 33, risked his life trying to rescue fellow soldier Lance Corporal Doug Grant during a heated firefight with Taleban insurgents in Kabul early on August 19, 2011.
He was killed six weeks later during an operation southwest of Kabul.
Corporal Smith's mother, Mary Smith, accepted a posthumous New Zealand Gallantry Decoration on her son's behalf at an investiture ceremony at Government House in Wellington today.
Wearing the badges from her son's uniform, Mrs Smith told Governor-General Lieutenant General Sir Jerry Mateparae she had always been proud of her son.
"He was a courageous person ... he was a brave man," she said, on the brink of tears.
"Nothing will compensate for his loss but he wouldn't have had it any other way."
Corporal Smith had been part of an NZSAS squad that was supporting an Afghan crisis response unit when the British Council office in Kabul came under attack.
Corporal Grant, a father of two, was shot and wounded in the chest as he rushed up a stairwell in the compound. Without hesitation, Corporal Smith requested permission to rescue him.
Under covering fire, and with insurgent bullets flying around him, Corporal Smith leapt over a wall and ran across open ground to give Corporal Grant first aid.
His injured colleague was removed to a waiting helicopter but died en route to hospital.
Corporal Smith then returned to help blow a hole in the wall of the compound and provide covering fire as the British hostages were rushed to safety.
Sir Jerry paid tribute to Corporal Smith's sacrifice for his country.
"There is no honour that can substitute for a human life, for a grandson, a son, a brother, an uncle and a mate.
"And yet in this award, I hope that Lance Corporal Smith's family can take some solace in remembrance of the courageous man ho was taken before his time."
Also honoured today was an Air Force pilot who managed to land a helicopter under intense gunfire in Afghanistan, despite a hail of bullets pinging off the cockpit.
Squadron Leader Benjamin Pryor, 38, received the New Zealand Gallantry Medal for his actions while on loan to Britain's Royal Air Force.
On April 22 last year, the father-of-three captained the lead Chinook helicopter in an eight-ship air assault.
The helicopter was hit three times in the cockpit, but Squadron Leader Pryor still made a second, successful attempt to land troops in the area while providing suppressing fire.
He was also honoured for a casualty evacuation under heavy gunfire in Afghanistan's Southern Helmand province on May 21 last year.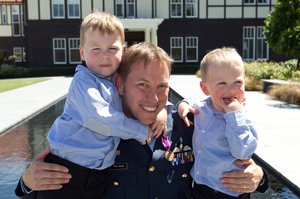 Squadron Leader Pryor said both incidents had been "very, very intense".
"We try and prepare ourselves as best we can, but in all honesty in some of those situations, when you're coming under intense enemy fire, there's not really a lot that you can do to calm down.
"Internally you're screaming to get out of the situation, but externally you have to stay calm."
It was hard not to think about the risk to his life. He also reflected on his young family - wife Jennifer and kids Hamish, 4, Craig, nearly 2, and 7-week-old Ashleigh.
"The second incident ... was the day before my birthday, and the following day I spoke to my son on the phone and obviously had to tell him that daddy was fine and everything was all happy.
"But obviously it's pretty tough being away from family in that sort of environment, and particularly young kids puts another perspective on it."
Sir Jerry said Squadron Leader Pryor's brave actions had brought great credit to himself and the New Zealand Defence Force.
- APNZ