Here's another question for the Murdoch empire: Should Sky TV be so dominant in NZ?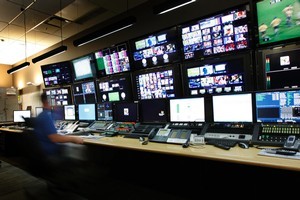 I was burgled last week. They took two laptops, two iPads and an iPhone. They didn't seem much interested in my flatscreen TV. I suppose it would have been too hard to filch. Also, it is screwed to the wall.
Nonetheless, Rupert Murdoch take note. I suspect the burglar's taste is a sign that TV is passe. Also a sign I should not be so laissez faire about security. Thank you everyone who advised me I should take more care to lock the house and learn how to use my alarm. I would never have thought of that. Also, a big thank you to Spotty the Dalmatian who slumbered comfortingly next to my bed throughout.
Of course, while spending the week dealing with insurance companies about replacing my lost consumer electronics, my main concern was regularly checking in to watch the best show in town, the meltdown of the Murdoch empire. I couldn't bear to miss a second. Or a single "schadenfreugasm" as one journalist on the Independent called it as we watched the mighty fall.
I must confess I do have a wistful hope that the whole melee might mean our little nook of the Murdoch empire also comes under a bit of disinfecting scrutiny. Sky Television, 41 per cent owned by Rupert Murdoch's News Corp, is in about 50 per cent of households. Sky also owns free-to-air channel Prime.
We have a chilled-out bro media regulation regime here, which has allowed Sky to get into a powerful position. This Government was going to instigate a review of broadcasting regulation but then canned it. I couldn't quite ascertain why. The only thing the Government has done when it comes to broadcasting is get rid of TVNZ's charter, presumably so the state-owned broadcaster can compete in a commercial environment; in TVNZ's case, it's a bit like saying pensioners can buy a Harley when they are struggling with walking frames.
Sky also seems to have its own chilled-out bro version of the dark arts, as practised by longtime lobbyist Tony O'Brien. Famous lobbyists often have what are called "larger-than-life" personalities. But O'Brien seems to get a lot done with what you might describe as a medium-sized personality. Sky seems to have done well in getting what it wants in Wellington.
It also controls its image assiduously. Once on National Radio, I dared to voice the opinion that Sky gets a pretty easy ride from our politicians, given that it makes hardly any local programming except for sport. O'Brien was on the blower straight after. It does make a lot of other stuff, such as Prime News and the Living Channel.
I still can't help wondering whether there ought to be some quid pro quo for the free rein Sky has been given to operate in such a dominant position here. In other countries, the dominant digital player has to pay to carry free-to-air content, in the way Sky carries TVNZ channels. In many other jurisdictions, there are rules to stop pay TV operators also owning free-to-air networks or other media platforms and strict competition laws which stop them dominating.
But from wool scouring to building materials, this Government seems to have a chummy attitude. The prevailing approach seems to be "oh what's a bit of thingimajigger between friends" as long as we see the big picture. Even with Kiwi Tom Mockridge in charge, I'm not sure New Zealand even registers in the Murdoch empire. But perhaps we should think about it. Has Murdoch burgled our TV market?