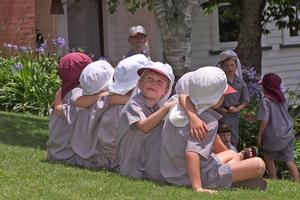 Sean Plunket nailed it beautifully on National Radio's Morning Report on Wednesday.
Educationists' objections to national standards are not about damaging children's learning, stopping their "engaging in the system", or damaging their self esteem. It's all about parents having information that enables them to compare schools.
Plunket was interviewing two school principals - Clifford Wicks, from Otari School in Wilton, and Philip Harding, from Paparoa Street School in Papanui.
Wicks, who favours national standards, said he was "pleasantly surprised" by his staff's "united, positive response", though "still has some concerns".
But clearly, this man is looking forward to ensuring the students at his school don't emerge like two of my kids, products of the postmodern education system, where apostrophes didn't matter and spelling belonged to the school of thought which believed any grammar interfered with the creative processes.
In the other corner of Plunket's studio was Harding, firmly opposed to national standards, although it soon became clear, in Harding's own words "it isn't about national standards".
Eh? I thought that's what this bunfight was all about?
Harding said the real issue is when the standards are assessed and "schools start competing against each other" because "media can't wait to get hold of the data so they can post league tables on the front pages".
Plunket asked Harding if the release of information were made illegal, would he then support national standards?
"Absolutely, be right behind it."
So it's all about league tables.
Well, it's impossible to ban them. Anyone can obtain them under the Official Information Act.
Personal student information should remain just that - available only to the student, his or her family and the school. But even if collective school data could somehow be suppressed, parents will talk among themselves, over the internet.
What's to stop parents swapping information between cities? Are education unions suggesting families should be banned from sharing information throughout the nation?
There's so much arrogance coming from the union leaders in their resistance to the implementation of this policy. What's so wrong with identifying where children are finding it hard to keep up and spending more time, or money, or both, on rectifying that?
Isn't that what teachers have been crying out for?
We read nonsense from union leaders saying they'll have tears in their eyes while they tell students they are failures, that they won't have time to teach music and dance. If that's the case, they shouldn't be teachers.
National standards apply to numeracy and literacy only - foundation subjects. If students are struggling, good teachers don't tell them they're failures; good teachers don't snivel in front of students.
Part of the problem, of course, is the teachers who want to be liked instead of respected, called by their first names, be cool. It's the "Steve from Guidance" syndrome, as in the TV programme Seven Periods with Mr Gormsby.
Rangiora mother Dellis Hunt has launched a campaign against national standards because she says she was "labelled" a failure in school, so she left to become a cleaner.
She modestly calls herself "a mum with chickens in her backyard and more comfortable in gumboots".
Well, so am I. And, pray tell, what is so inferior about being a cleaner? Are teachers more superior? This country has become snobbily obsessed with herding our kids towards tertiary qualifications. And what are those precious degrees worth?
In Australia this week it was reported that graduate doctors can't write prescriptions in safe English or do mathematical calculations.
When that happens here, will the teacher unions blubber as they tell them they're a failure?