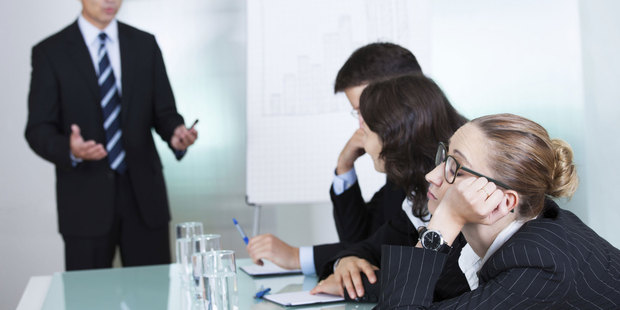 You would think sales people would know better! In fact, I think I'm going to add a new service on to my business. Reworking sales presentations and proposals!!!
Time and time and time again, while working with small teams, no matter what industry they are in, I find that their sales material - proposals, presentations and quotes are simply not good enough. Perhaps you can call it the stress of the modern age of doing too much in too little time. Or you can simply putting it down to not having the right training. I imagine your normal sales training focus on how to close a sale; rather than how to write, design and present a persuasive presentation that sells. One that gets attention, keeps interest and motivates to action.
I think writing proposals that sell starts with simply changing their perspective. Their mindset. From an 'us, me', to a 'them' point of origin.
Let me explain with five quick points:

1. Results before resource
Most marketing and sales material as well as presentations focus on how wonderful 'you' and 'your' products are.
Your business. What you have to offer. Your staff. Your products. In other words the materials focus is on your business as a resource to them.
Replace it with what results they'll get with you. How will working with you make them more successful? Earn them more money? More esteem? How will it free up time? Solve problems? See the difference? In my speaking proposals for example instead of saying I can train on Outlook, Conquer email overload, I write 'Would you like to cut overheads and increase sales derived from freeing up two working weeks a year per employee? Instead of 'we have the new comfort sole shoes in stock', it's 'want to feel like you are walking on air and can walk forever'.
2. Them. Not You
In sales presentations by virtue of being there, you're almost 'bought'. Differentiate your company by having content 99 per cent about them; all selling points relate to their problems. I've written about this several times over the years- the I/You ratio. Remove all the I's, we's etc. My proposals don't say 'Debbie will entertain your delegates', I write 'your delegates will appreciate you bringing Debbie in'. Instead of you putting 'we are giving you a 15 per cent discount', have 'you save significantly with a 15 per cent discount'.
3. Fluff walks. Money talks. Put a dollar value on it
So many sales proposals are fluffy. Instead focus on the three bottom line results and quantify it. More profit, sales, time. A result of happy staff is fluffy. From example one above, I don't just say 'free up two working weeks'. I research their staff, industry salaries and actually quantify it with you save at least $1470 per person per year'. Happy staff means less turnover, less productivity lost. If your product could save two staff members from leaving a year it's X dollars. The math is their salary x 1 month productivity (not lost) each plus recruitment cost (not spent). This more than anything speaks loudly about how right it is to invest in your product or service.
4. Presentations are not scripts.
Sales presentations are normally laden with text, text, text. And more text. In essence they become the scripts that the sales person follows; rather than a selling piece. Have you heard the rule of a maximum of sever words per line and seven lines max per slide? However to be frank - there shouldn't be any bullet points full stop. I haven't used more than a handful in the past four years. So create two presentations. One you hand them. And one you deliver to them. Have it full of interesting pictures. Here's an example. I was recently at a presentation where someone was talking about eating habits. On the slide, one line was in front of the TV. The second was at your desk. The third was while walking. The fourth was at the dinner table with family/friends. This is okay for a handout or written proposal. For presenting to people it would be more captivating and also prompt the sales person by using four slides. The first with a television. The second with a person in front of a computer screen. Third a person walking in the local area. Fourth a dinner table.
Use Pictures, graphics, insert short videos if applicable. That is the world we live in now and you'll be more successful if you entertain as you sell.
5. Stories sell - pictures tell the story.
Use stories to make your point. It will be much more memorable.
Written by Debbie Mayo-Smith, One of Australasia's most in-demand speakers, trainers and bestselling authors. For more tips and business ideas sign up for her monthly newsletter.