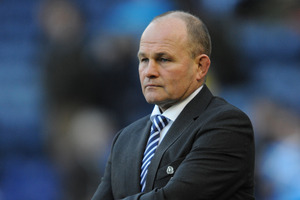 If you want to find the most thankless task in top-tier world rugby coaching, you'd go far to find a better candidate than Scotland.
As they prepared to play Tonga this weekend, hoping for a first win at home for 15 months, their coach Andy Robinson said this: "The game of rugby is about being able to perform for 80 minutes ... You put together 35-40 minutes of what we did against New Zealand with 35-40 minutes of what we did against South Africa and there's an 80-minute performance for us."
Maybe he's been taking in too much of the Edinburgh sun.
So in the same vein, all New Zealand's cricketers - neck deep in a hole of their own digging - have to do is take Tim Southee's seven-wicket haul against India at Bangalore two tests ago, marry it with Ross Taylor's century in the same test, Trent Boult's new ball work at Galle a few days ago, the best bits of Jeetan Patel's offspin in India and Kane Williamson's gritty ton against South Africa last March - hell, throw in Richard Hadlee's nine-fer at Brisbane for good measure - and they're in business.
Coaches do say daft things and you wonder if Robinson later reflected on how dopey his words were. Just as New Zealand have had an extra couple of days to reflect on the galling loss at Galle as they prepare for the second test in Colombo.
What thoughts would be running through their minds? They'll have heard coach Mike Hesson, Taylor, probably New Zealand Cricket's director of cricket John Buchanan, who is over there, give their thoughts.
But what of the inner voice? The one which has the most profound impact on our lives. Have the players fully digested the depths to which they've collectively sunk of late? Certainly they will have read and heard plenty of crunchy criticism of the effort in Galle.
Taylor made the point how New Zealand improved significantly between a hefty loss in the first test in India in August and the second a week later. Granted it was better, but it was still a five-wicket defeat.
There are those who are sick of hearing players harking back to the seven-run win in Hobart last December. True, it doesn't have much relevance to what's going on now, except to reinforce to the players what they are capable of and there's no harm in reflecting on a good day if it can provide a motivational spur. But it does seem an age ago.
Then there's the whispering machine which, even a few thousand kilometres away, they'll have heard, that Taylor's time in one, or both, the test and limited-overs captaincy roles may be coming to an end.
Whether true or not - and New Zealand Cricket chairman Chris Moller yesterday carefully trod the middle ground on all things related to the current situation - that can be unsettling.
Depending on your perspective Moller is either correct to sit tight and straddle the fence until a debriefing with all senior figures takes place upon their return; or he eschewed a chance to fully endorse the encumbent.
So what chance a New Zealand win next week? No one saw the Hobart triumph coming after a three-and-a-half day walloping in Brisbane a week earlier.
Persuaded? Didn't think so.