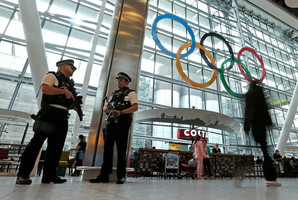 Say what you like about London's up and at 'em mayor, Boris Johnson, but he knows how to put himself about.
As they entered the cavernous Kings Cross station yesterday, passengers were greeted with Boris' voice booming out a message about the advantages of trains and the wisdom of getting there early during the Olympics.
His face is everywhere. Indeed with his shock of white-blond hair, Johnson brings to mind the hit song from Four Weddings and a Funeral, except instead of love, it's Boris who is all around us.
For anyone who has lived in London for any length of time, the next few weeks will be fascinating, as they see how the city has changed, or not.
A first impression yesterday was of a distinctly friendly vibe about the place. Shop assistants smiled, and said, "You're welcome". Old London hands will remember that's not something always to be taken for granted.
At St Pancras, next door to Kings Cross, there is a fast train to take crowds directly to the Olympic Park. It's a six-minute journey, departing at regular intervals, but the woman manning the gate at the railway station yesterday had tactical advice for anyone worried by a queuing procedure which will operate from the time the Games begin early on Saturday (NZT): "If you're in a hurry, just push through," she appeared to joke.
Certainly a drive around part of the city yesterday made it clear the bunting is out and London is ready to party. The volunteers, who can make or break an Olympics, were full of smiles, eager to please.
In Atlanta 16 years ago they were useless and uninterested; in Beijing four years back they were prim and helpful, in a distinctly ordered way. Those encountered yesterday working as information providers were full of beans for what lies ahead.
National newspapers are understandably full of it: special sections on all you need to know about the Games, best medal tips, who to watch and so forth. You wonder sometimes what's left to reveal in the coming five days before the jamboree starts.
A word, too, on Heathrow Airport. Getting through has in the past proved to be among the world's worst travel experiences.
Credit where it's due, however - yesterday was smooth sailing, easily manageable lines and, again, friendly, helpful staff.
One colleague brought back a vivid memory of 20 years ago when he and I were stuck late one night in an endless, barely moving Heathrow queue. A conversation was struck up with a couple of Americans shuffling behind us. One of them mentioned that while New Zealand was a marvellous country, "it's just a shame about your nuclear policy".
A furious row ensued as the Americans were put in their place by my colleague, before he turned in high dudgeon to march off into the distance - his point forcefully made - and stopped dead after two paces, stuck in the line.
Spirits are good. Now just a few days remain before we all find out what you get for £9.3 billion ($18 billion).
Follow social media editor Troy Rawhiti-Forbes at the Games on Twitter @troyRF.