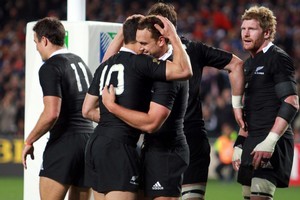 Australia scoffed down the oval ball entree in Newcastle; but New Zealand dined out on the main course.
And so the nation will wake this morning and rejoice.
Four more years; not quite the putting to bed of George Gregan's taunt of 2003, but a giant step towards it. Now for the last jump against France and the opportunity to drink heartily from the World Cup well after 24 years of finding the hole dry.
That was a storming match, ferociously intense and for all that the All Blacks made a rousing start, the Wallabies continually threatened, if only they could get their hands on sufficient ball, then not squander it.
What is also clear is that, on the evidence of Saturday night's first semifinal, there should be only one winner next Sunday night, and that is not the turgid French.
Then again, this is France, they have form against the All Blacks, including occasions when they seemed to be dead and buried - so therefore best hold all tickets.
Last night's clash was about the now, but it also had historic context.
Sixteen years since the All Blacks made a World Cup final; eight since making the semifinals.
The 1995 occasion, a sunny, emotion-laden afternoon in Johannesburg; the second a remarkable night in Sydney as the All Blacks were well done over by a resourceful, smart Wallaby outfit.
Outside an hour before the kickoff it was all black, and a fair bit of yellow surrounding Eden Park. There were pockets of French fans, able to smirk and savour the night. After all, it wasn't their fate on the line.
This test could have been sealed in the first 20 minutes. In that time, Quade Cooper botched the kickoff, immediately handing position and momentum to the All Blacks.
The forwards tore into their work as if possessed, battering the Wallabies. Points were scored. The cushion was plumped up, but Australia wouldn't allow the All Blacks to take their seat.
It was suggested beforehand that the team which started stronger would prevail. This doesn't account for the other side getting a foothold and turning the contest on its head.
Australia had a couple of brief periods in the first half and tried desperately through the third quarter, but this was not their night.
Instead it was the All Blacks who gathered the spoils. Their energy and resolve got its just reward.
Before the game, thousands of New Zealanders looked distinctly twitchy. Passion was high; nerves were rattling.
So doff the hats to a job well done, and no mistake this time.