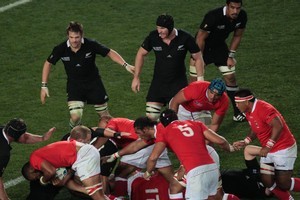 Here's a thought, after six years waiting for the return of the World Cup to these shores: by tomorrow night one-sixth of the games will be over.
Just like that. One thing is absolutely certain: the next six weeks will fly by.
So what to expect over this hectic weekend, with four games today, three more tomorrow?
High on any neutral wishlist would be an early upset, something which will give the tournament a real shake.
Not that you'd wish ill on the likes of France, South Africa, Australia or England, all teams with varying degrees of optimism that they will be in the final.
There's no chance they would be of that mind, of course, unless it was a rival copping the strategically-placed banana skin. Normal transmission will be very much to their liking.
For the heavyweights, the next two days is a throat-clearing exercise, presenting their credentials with an eye on the big prize, a matter of setting out their stall, putting lines in the sand and all that.
Most of the cup tournaments have produced a result to rattle the rugby world.
Who can forget Samoa turning over Wales in their first cup bow at Cardiff 20 years ago; Fiji bouncing out the hapless Welsh four years ago; Tonga giving South Africa a real fright, and Georgia giving Ireland a dose of the heebie-jeebies, both at that tournament.
The problem for those seeking surprises is that rugby doesn't lend itself to the unexpected.
In individual sports there is far more scope for a favoured contender dropping a clanger. Think how leading seeds so often struggle in the early rounds of a tennis Grand Slam.
For rugby, many elements must go wrong at the same time to open the door to a turn-up. A goalkicker can have an off day, but it's no big issue if the pack and backs are doing their stuff; backs with butterfingers can be overcome by a dominant forward pack ahead of them doing the business.
And who would be the leading candidates to turn the tournament on its head at some point?
Pacific Island nations sit at the top of that list; or do Georgia have it in them to go one step further against another Celtic nation, Scotland, next week?
What of this first group of games?
Are Australia in the right shape to carry on from the fine work of their last two matches against South Africa and New Zealand, against Italy tomorrow?
Can Italy themselves take a giant step forward; are Romania up to denting the Scots.
Argentina, third four years ago, rattling uninspiring but tournament-smart England, perhaps? Or might John Kirwan's Brave Blossoms do the inconceivable and strike a mighty blow for the little guys against erratic France tonight?
All this and so much more. Plenty is riding on the cup for the country, and not just in purely rugby terms.
Proving itself capable of hosting a global show is crucial, partly to put IRB chief executive Mike Miller's patronising "you won't have this again" line where it belongs; partly for the confidence of the country, and pride in it.