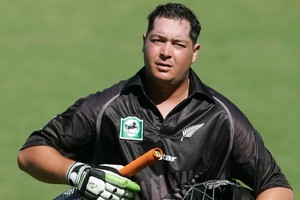 At what point does New Zealand Cricket say, "Enough, Jesse"?
Or should they? Why not accept that the Wellington lefthander is a different case, punish him when he breaks the rules but keep the faith?
After all, players of Ryder's substantial talent don't pop up every year in New Zealand cricket.
Noises made in the wake of Ryder's latest indiscretion, admitting a serious misconduct charge over being boozed and disorderly during an indoor cricket competition in Christchurch last month, suggest the clock is ticking at NZC headquarters.
And that seems to have struck a chord with the troubled 26-year-old.
"I was actually thinking that this could have been it for me. But luckily they've given me one last chance," he said.
So maybe something is finally sinking through, and no need to cue up any last chance saloon gags either. This has gone on long enough.
NZC gave Ryder some credit for admitting the incident. But that came after a complaint was made to the national body. Ryder said he was aware of that complaint.
Therefore it might be argued that Ryder's "fessing up" only came after he knew it would come to light, rather than being a magnanimous, unsolicited mea culpa.
Ryder's problems with alcohol have been well documented. NZC have cut him plenty of slack in the past, probably to the point of being overly forgiving.
They have assigned teammates to keep an eye on him on tour.
So what say you, as the poor schmuck lined up to keep Ryder out of the mini bar or ensure he's tucked up at a reasonable hour? Haven't you got your own career and ambitions to think of?
Shortly after Ryder hit his maiden test hundred, against India in Hamilton in March last year, and followed that with a double century in Napier in the next match, a senior person within the NZC setup was asked his view on how good a batsman Ryder could become.
After a pause, he replied that unfortunately he didn't think Ryder would be round long enough for it to matter.
He is recovering from an injured elbow, which counted him out of the present tri-series in Sri Lanka. Teammates have been privately critical of his general state of fitness in recent months and questioned how hard he had been working on improving it to the required level.
There is a distinct feeling players are fed up nursemaiding their gifted but high maintenance teammate.
NZC have tried to keep Ryder on track. They recognise what he can do for New Zealand on the field. His test average of 49.88 is the best of all New Zealand batsmen with a minimum of 20 innings.
There is also a milk of human kindness aspect, in that it is right they try to help someone in their wider family who has his problems.
But when NZC's general manager Geoff Allott said Ryder "clearly understands we will not tolerate a repetition of this type of behaviour" and confirmed that another similar incident would terminate his contract, it seems a line has been drawn.
Ryder slid down the national player contract ranking list this year, but remains inside the top 10 of the 20 who received contracts.
He is expected to be fit for the five ODIs in Bangladesh next month.
Ryder now needs to get back in the squad, be productive and earn the respect of his teammates.
He said at the weekend: "I've had enough of getting into this sort of trouble and bringing attention to myself." He's not alone in that.