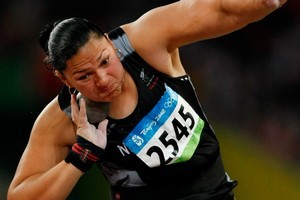 New Zealand's Olympic champion shot putter Valerie Vili was beaten again yesterday.
Again? Well it was her fifth successive loss this season to her closest rival, Belarusian Nadezdha Ostapchuk, at the Diamond League meeting in Stockholm.
Ostapchuk hefted the stone ball close to a metre further than the Aucklander. That's a belting at their level of competition.
No doubt Vili is not enjoying their contests right now.
But equally, I'd put a dollar on the fact Vili won't give a hoot if she defends both her world championship title next year and her Olympic crown in London in 2012.
She is settling in with a new coach, Frenchman Didier Poppe, they are working on making technical changes. These things take time.
In that respect, Vili's situation is markedly different from the All Blacks, who have been hearing the same voices at training and in the dressing room for seven years.
But news of Vili's latest second placing prompted another thought: would you rather have the All Blacks playing exhilarating, winning rugby in the years between World Cups, then stumble on the big stage; or fail to flatter in between the four-yearly showpiece, but lift the cup?
A friend, a keen rugby man, is firmly in the first camp.
Winning a second World Cup on home turf next year would be terrific, but not the end of the world if they don't.
His rider is that is fine, when set alongside the All Blacks proving themselves the best, most entertaining team on the planet in between times.
He would settle for that and won't be alone in that view, just as you can be sure there will be at least as many who lean solidly towards the other option.
The former All Black selector and longtime coach Peter Thorburn has a saying that the World Cup is no more than a snapshot of the game at that time.
It takes no account of the years immediately beforehand and is irrelevant to the following year or two.
Thorburn has a fair point.
In 2003, that snapshot had England winning the World Cup. They had a group of outstanding footballers, Jonny Wilkinson, Martin Johnson and Jason Robinson at their peak.
They were backed by a core of experienced performers who had been through their share of troughs but collectively their time came, at the right time.
In mid-1999, France came to Athletic Park. They weren't interested and weren't much good, and were bounced 54-7.
The All Blacks had gone through a pretty rumpty 1998. Five successive tests were lost.
But that day in Wellington - and followed by three convincing Tri-Nations wins - seemed to reassure the rugby land that all was well again. World Cup glory, here we come.
A few months later things were rather different at Twickenham on semifinal day, and the fury of the defeated nation knew no bounds.
So what will happen if things go wrong at Eden Park on October 23 next year - and that's assuming the All Blacks make it to the final, which, let's remember, they haven't done for 15 years?
Is New Zealand a more mature rugby country than 11 years ago? You'd certainly hope so. Then again, you'd have thought it might have been in 2007.
The problem is, World Cups are what rugby, and other sports that have them, are remembered by.
What happens in between amounts to very little unless you are a big picture type who can enjoy the good times and accept the less good.
And if things go pear-shaped in 14 months, who will remember events this year?
Conversely, who will be interested in Vili's setbacks if she's on top of the podium at London in 2012?