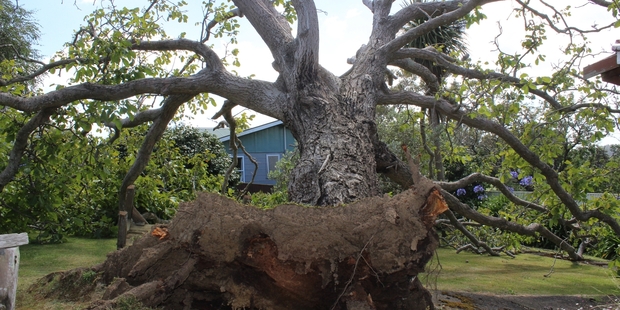 If trees could talk, then an ancient walnut in the backyard of a Dannevirke home could tell plenty of tales, homeowner Karen Stewart Jones says.
However, after more than 70 years as an important feature in the back garden, the tree was no match for gale-force winds last Thursday afternoon.
"I heard a crack around 3.30pm but didn't think anything more of it until my husband Howard came home, looked out over the deck and saw the tree down," Mrs Stewart Jones said.
"It's so sad, Howard and I were married under that tree and it's been a perfect backdrop for the 23 years we have lived in this house," she said.
"The tree has seen many goings on, including the revelry from all the important Big-O birthdays. It's been a big part of our lives."
The home on Allen St was built by June and Art Carr more than 70 years ago and the tree was planted at the time, Mrs Stewart Jones believes.
"Howard tells me nothing lasts forever, things live and they die, but with the doors on to our deck open the tree was part of the outdoors which came into our house. Wind continued to buffet the area over the weekend, with fallen branches littering properties and hay left clinging to fence lines.
For more articles from this region, go to Hawkes Bay Today