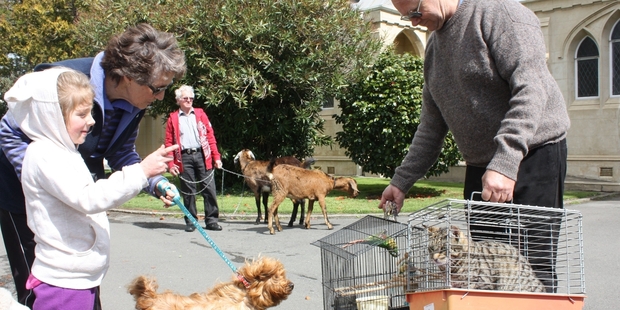 The weather behaved itself and so did the animals at Sunday's animal blessing at St John's Anglican Church.
After days of gale-force winds and driving rain the skies cleared for an hour to allow Canon Tim Delaney to conduct his annual blessing of the animals on the lawn in front of the church.
Displaying perfect manners were Cracker the maroon-bellied conure and Bobby the cat, owned by David Ross.
"Cracker has no fear, he's at home wherever he goes," David said, as Jo McDonald's Australian terrier Skip nuzzled Cracker's cage.
Robert and Nolean McKay had travelled from Taradale for the service after reading about it in the Hawke's Bay Today.
"We thought it would be good for Suzie, our pure-bred Pomeranian to meet other dogs," Robert said.
"Suzie was the runt of the litter and the first dog we've ever owned. She gives us a lot of love."
With all the animals on their best behaviour, Chocco and Queenie, the Jackson family's goats, were treated to an afternoon tea of bread, their reward for not eating the hymn sheets this year. While Andreas Jackson gave Shorty the lamb an extra bottle of milk.
"We brought along the bottle, just in case Shorty was naughty," mum Liz said.
For Queenie the animal blessing was a special way to celebrate her recovery following a dog attack.
"We're lucky to have her," Brian Jackson said.
"The person who found them during the attack thought Chocco was dead, but she was just playing dead, lying on her back in a puddle with her legs in the air. But meanwhile the dog was attacking Queenie."
Although there was plenty of barking and a few dogs strained at the leash, no fur flew during the blessing and Canon Delaney said it had been a great opportunity for people to connect with others through a mutual love of animals.
And what can we learn from a dog? On hot days, drink lots of water and lie under a shady tree.
For more articles from this region, go to Hawkes Bay Today