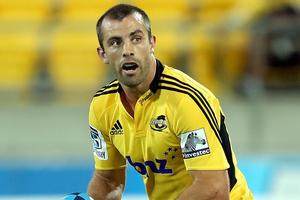 The debate over whether Hurricanes captain Conrad Smith should take the field this weekend demonstrates the conversation around head injuries has shifted markedly in the space of a season.
Smith, who suffered a heavy knock in the Canes' season-opener last weekend and subsequently failed a pitch-side concussion assessment, has been cleared to play the Reds in Brisbane tomorrow.
We have to trust that the Hurricanes' medical staff and management team have made that decision with only the interests of the midfielder's health in mind.
The great thing is, their decision-making - and that of teams in similar positions - is under more scrutiny than ever due to the improved awareness from the players, fans and public of the dangers concussions pose.
Now their handling of head injuries is being placed under the microscope, teams will need to be careful to ensure their practices are robust.
It is heartening to see that as a result of the growing research into the long-term effects of repetitive concussions, which has yielded terrifying results, and the increased media coverage of the dangers, there has been a noticeable shift in mindset in the way head injuries are viewed.
Discussion on talkback radio yesterday (admittedly not the best barometer of the national mood) centred around return-to-play protocols, and whether the Hurricanes needed to be more conservative in their management of Smith.
The clowns who scoff "they're not playing tiddly-winks out there" (that line hasn't been funny since Tana Umaga said it) thankfully seem to have quietened. But for this shift in mindset we really have to thank those who have had the courage to share their personal stories on what has, for far too long, been considered a taboo subject.
There seems to be a code among footy players that any sign of weakness is not tolerated. The likes of Paul Tito, who was involved with the Herald's Knock-On Effect series last year, and Steve Devine have broken that mould offering compelling testimony of the long-term health risks if you ignore the warning signs.
Head injuries in sport also gained further airing across the Tasman this week, with former Wallaby Peter FitzSimons presenting a story on current affairs show Sunday Night about the long-term impact of repetitive head injuries. The story documented the post-career struggles of two former stars - AFL legend Greg Williams, and former NRL hardman Shaun Valentine. The cameras followed the pair as they underwent cognitive tests, with Williams shown forgetting the middle names of his own children and later being told by a doctor that his brain is exhibiting symptoms usually associated with Parkinson's or stroke.
The story will hopefully make those still trying to sell the virtues of the shoulder charge in league rethink their stance.