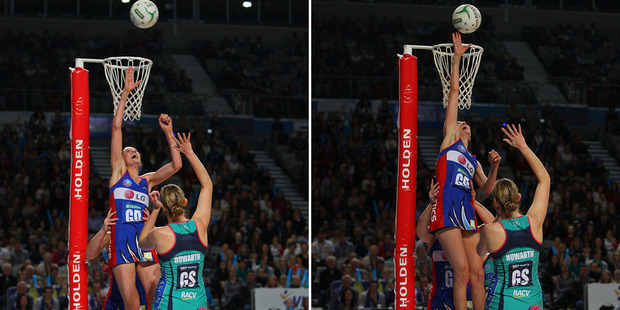 When the ANZ Championship marketing boffins sat down and came up with the new slogan "change the game" they probably didn't expect the Northern Mystics to take that as a challenge.
With elite netballers now fitter, faster and stronger, the game is constantly evolving.
But Anna Harrison's athletic defensive efforts against the Vixens yesterday weren't simply evolutionary, they were revolutionary.
With one almighty heave into the air, the Mystics changed the game.
Have your say: Should lifting be allowed in netball
There is not even a statistical category in netball to describe what Harrison did. She finished the game with five deflections, but this does not include her four successful assisted goal tends, in which she plucked the ball out of the air before it reached the net.
The Harrison Hoist (nee Scarlett Skylift) has been months in planning.
Behind closed doors at training this year the Mystics have been quietly developing and mastering the technique, confident what they were coming up with was a potential match-winner.
They awaited the perfect opportunity to unleash the tactic. That time came in yesterday's clash against the Melbourne Vixens, one of the competition pacesetters.
The star defender's ability to intercept the ball on a flight path to the goal initially confounded the commentators.
"I've never seen any netballer jump that high," exclaimed one, before countless replays later they realised Harrison was in fact assisted by her defensive partner, Kayla Cullen.
It wasn't just the commentators getting excited.
I've never seen so many blokes in the office crowded around the telly watching a game of netball as I did in yesterday's transtasman league match.
"Well, netball just got interesting," remarked one. Netball bosses will do well to bear that in mind before considering any hasty rule changes to stamp out the tactic.
There are no laws against goal tending in netball, because up until now, no athlete has been capable of elevating themselves above the goal. Lifting had probably never been considered when the rules were developed.
It would be a terrible shame if the international body were to make a retrospective rule change in light of Harrison's athletic exploits. This type of innovation is what netball needs.
Defensive lifting is by no means an unbeatable strategy. As with anything there are risks and rewards - in this case the lifting manoeuvre ties up two defenders, leaving the second shooter free under the goal. Attacking players will soon develop their own strategies to counter this tactic.
Officialdom needs to allow the game and its players to evolve.