Look out for Muppets or other oddly attired riders in this singlespeed challenge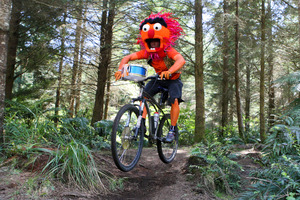 All mountain-bikers know that if they win the New Zealand singlespeed championship the mandatory prize is receiving the event tattoo. Or as they say: "No Ta Moko, no title".
A tradition of singlespeeding is that the winning man and woman receive a tattoo or ta moko as first prize.
"As the Maori proverb goes, taia o moko hei hoa matenga mou or, take your moko as a friend for life," said Gary Sullivan, the president of the Rotorua Singlespeed Society (RSSS).
This year the work will be done by young Rotorua artist Tane Singh-Lagah, and will reflect the culture of the city and region.
It's one of many crazy traditions carved into the sport that make the New Zealand Singlespeeds unlike any mountain-bike event in the country.
They're like the Rugby Sevens of mountain biking - the 2013 Pig & Whistle New Zealand Singlespeed Championships is a serious sporting event wrapped in a loud, colourful party.
"Cross-country mountain-biking is often associated with men in tights," said Sullivan. "With singlespeed racing that may extend to a heavily tattooed man in a tutu ... or dressed as a Muppet."
The sixth annual championships will be in Rotorua at Anzac Weekend with race day next Saturday.
The society ran the first two New Zealand championships in 2008 and 2009.
In 2010, they hosted the Singlespeed World Championships, bringing nearly 1000 riders from 30 countries to the Whakarewarewa Forest Trail network, on the city's southern doorstep.
"We still get great feedback from people from all over the planet who were here in 2010," said Sullivan.
Meanwhile the New Zealand championships went on a tiki tour - Queenstown in 2010, Hawkes Bay in 2011 and then Nelson, last year. Now the sport is back on the rise.
"After Nelson no one put their hand up to run this year's event, so we grabbed the chance to bring it home. There is something elegant about the simplicity of one gear. But it isn't so much a new thing as a revival."
The Singlespeed Championships will be a mix of demanding racing on some of the best trails Rotorua's Whakarewarewa Forest network has to offer and light-hearted fun.
Garth Weinberg is one singlespeeder who knows how tough it will be. The Rotorua rider races in mainstream events as well, such as Karapoti and the Magellan Whaka 100, competing successfully with New Zealand's best one-geared bikers.
Weinberg won the Singlespeed World championships in 2010 in front of his home crowd after a dramatic race-long battle with US pro mountain biker Ross Schnell.
"It was one of the most special moments of my life," said Weinberg. "The majority of the locals and heaps of the out-of-towners knew me and were cheering and screaming for me to go as hard as I could."
Winning was a mixture of elation and relief for the three-time New Zealand Singlespeed Champ.
"Having my family at the finish made it even more emotional and I still get choked up when I see photos or video of the finish," adds Weinberg. "It's something that as a child you can only dream of and if someone predicted that one day when you are older you would win a world title in front of your own community it would be the most ludicrous thing you have ever heard."
Weinberg is happy to be racing on home territory this year.
"Having the champs back in Rotorua is splendid, because we get the best crowds and the atmosphere is like nowhere else," he said.
The Pig and Whistle is an appropriate sponsor as the event is far more social than serious.
"Singlespeeders really do race hard and then enjoy a good bit of socialising at the after-match function," said Gregg Brown from the Rotorua pub.
The event will also have an Anzac feel to it. Since the 2010 Singlespeed Worlds there's been a dramatic rise in Australian mountain bikers taking advantage of Air New Zealand's direct flights from Sydney to ride the trails.
"There is a big crew of Aussies coming here for the Singlespeed champs," says Paul Laing from the RSSS. "The event has always been run on the week of Anzac Day, when the Aussie and Kiwi soldiers are commemorated and celebrated, so it'll be good to share a beer with a few of them."
The society is planning a big weekend, starting with a dawn ride to the Anzac Day service at Ohinemutu Marae on the shores of Lake Rotorua.
"The race course on Saturday will be challenging with a beer or two after - and maybe during - the race, and the Big Kiwi Breakfast is on Sunday morning," said Sullivan.
Queenstown is bidding for the 2014 event, again, along with Auckland.
New Zealand Single Speed Championship
When: Saturday, April 27
Where: Whakarewarewa Forest, Rotorua
What: Three laps with a total of 35km on single speed mountain bikes
Anzac Day Service: Anzac Day, Thursday, April 25. NZSSC's has always been the weekend closest to Anzac Day and like 2008, RSSS is organising a group ride from outside the Pig and Whistle led by Rotorua (and Melbourne) rider Paul Larkin. Early start but worth it.
Meet at Pig 5.25am, depart at 5.30 sharp. Service at Ohinemutu Marae starts at 5.45am. All bikers welcome (not just one-gear).
For more information about NZSSC visit their Facebook page