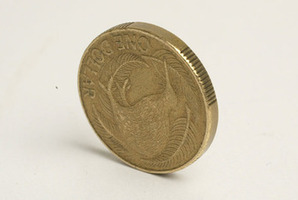 The New Zealand dollar fell against the pound after government figures showed Britain emerged from recession last quarter, helped by the Olympic Games. The kiwi held above 82 US cents.
The New Zealand dollar traded at 82.16 US cents from 82.21 cents at 5pm in Wellington yesterday. The kiwi fell to 50.95 British pence from 51.23 pence.
The Olympics helped the UK economy expand by 1 per cent in the latest quarter, the fastest growth rate since the third quarter of 2007, surprising economists who had expected recession to endure and lifting the pound against the US dollar.
The kiwi held yesterday's gains when Reserve Bank governor Graeme Wheeler quashed talk of a possible rate cut.
"Much of the bounce can be attributed to the one-off effects of the Olympic Games," said Kymberly Martin, market strategist at Bank of New Zealand. "Still, our economists now see upside risks to their forecast that the UK economy contracted 0.4 percent over the calendar year as a whole."
The kiwi dollar climbed to a three-week high after Wheeler's statement yesterday that a record low official cash rate of 2.5 per cent was appropriate for now. Traders see 18 basis points of cuts over the next 12 months, according to the Overnight Interest Swap curve, while economists say the next move will be an increase toward the end of next year.
Wheeler's statement "was less dovish than the market had expected", Martin said in her morning note. "Consequently the NZD/USD jumped higher, finding resistance at 0.8240 overnight, the level that has marked the top of its range this month."
The trade-weighted index rose to 73.41 from 73.34 and the kiwi was little changed at 79.32 Australian cents. It gained to 63.46 euro cents from 63.31 cents and climbed to 66 yen from 65.69 yen.