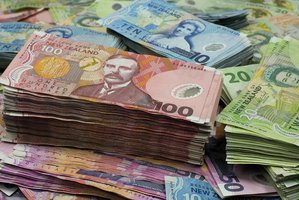 The Australian and New Zealand dollars, this year's best-performing currencies among developed economies, are reducing their links with stocks and commodities as investors search for faster growth and higher interest rates.
The correlation between the currencies and global stocks has fallen from record highs, according to data compiled by Bloomberg, and the relationship to raw material costs is also fading.
The aussie is up 3.6 per cent and the kiwi has risen 4.8 per cent versus nine peers tracked by the Bloomberg Correlation-Weighted Indexes. Both countries are loosening their ties to traditional measures of risk as they grow at more than double the average pace of the Group of 10 nations.
"Everybody is looking for yield everywhere but you are looking for stable governments and good long-term prospects," Axel Merk, president and chief investment officer at Merk Investments, said. "There is a sweet spot right now where there are inflationary pressures so the central bank will be reluctant to ease and if anything they have to think about that more than the global growth scenario."
Merk's US$510 million ($629 million) Hard Currency Fund has about 26 per cent of its assets in the two currencies, from about zero a year ago.
With the Reserve Bank of Australia raising its 2012 growth forecast to 3.5 per cent, and New Zealand investing in rebuilding earthquake-damaged Christchurch, both are attracting investors seeking higher returns than they can get in the US and safer assets than emerging markets.
Rolling correlations over 60 days between the aussie-dollar pair and the MSCI World Index of stocks was 0.77, down from a record 0.96 on January 18.
The kiwi-dollar link to global stocks has fallen to 0.72 from a January 9 record of 0.91. A value of 1 indicates the assets move in unison.
The strength of the aussie is increasingly driven by reasons other than raw materials as growth of exports to China, its largest trading partner, fall.
Prices for New Zealand's commodities in world markets declined for six straight months through July, according to an ANZ National Bank index. After adjusting for a stronger local currency, prices fell 3.4 per cent from May and 16 per cent from June last year.
The aussie and kiwi are rallying even as currencies of some of the biggest emerging-market commodity exporters falter.
The Russian rouble, Brazilian real and Indian rupee, which all have benchmark interest rates higher than the South Pacific nations, were the worst performers last quarter against the US dollar of 25 emerging-market currencies tracked by Bloomberg.
About 21 per cent of Brazil's exports were destined for the European Union in June compared with 8 per cent for New Zealand and 5 per cent for Australia, Bloomberg data show.
But the currencies may not be able to withstand a slowdown in China - the destination for 28 per cent of Australia's exports and 14 per cent of New Zealand's.
"The real risk we're worried about is the slowdown in China," said Robert Farago, the London-based head of asset allocation at Schroders Private Banking, which manages about US$25 billion. "One of the appeals is the yield but if the domestic economy is slowing, yields are more likely to come down than go up."
The median estimate in a Bloomberg News survey is for the aussie to trade at US$1.02 by year-end. The kiwi will weaken to US79c, a separate survey shows.
- Bloomberg