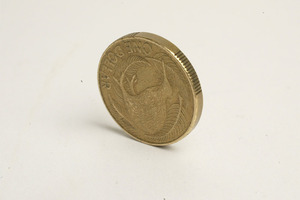 The New Zealand dollar fell about 1 US cent after a slowdown in global manufacturing added to weaker-than-expected data in the world's largest economy, sapping demand for high yielding currencies, like the kiwi.
The New Zealand dollar traded at 78.65 US cents just before 8am from 79.69 cents at 5pm yesterday. The trade weighted index decreased to 71.50 from 71.92.
Stocks on Wall Street and in Europe declined amid growing concern about the sustainability of global economic expansion. The Dow Jones Industrial Average fell 1.9 per cent to 12579.81, while Germany's DAX 30 slipped 0.80 per cent to 6343.13.
That comes as data showed euro-area manufacturing shrank at the fastest pace in three years and a Chinese output gauge indicated an eighth consecutive contraction. While in the US, more American's filed for the dole, manufacturing in the Philadelphia region shank and the sale of existing homes fell.
"The kiwi is in for a challenging day," said Alex Sinton, senior dealer at ANZ New Zealand.
"Global markets have refocused on the global growth story as weak China, Europe and US manufacturing sectors weigh on sentiment."
Federal Reserve policymakers downgraded the US economy's growth expectations yesterday, extending the Operation Twist programme. The Fed will sell short-dated government debt to buy longer maturities, rather than embark on a third round of quantitative easing.
The New Zealand dollar fell to 62.65 euro cents from 62.87 cents yesterday on speculation rating agency, Moody's Investors Service will downgrade as many as 17 banks in Europe, the US and the UK.
Markets will be keeping an eye on the finance ministers' meeting in Luxembourg after Greece's New Democracy and Pasok parties stitched up a coalition government.
New Zealand's international travel and migration figures for May are set for release by Statistics New Zealand this morning. That comes after Government data yesterday showed the local economy grew at its fastest quarterly pace in five years in the first quarter, over twice than what the market was expecting.
The New Zealand dollar rose to above 80 US cents for the time since May 4, straight after the announcement.
The New Zealand dollar was little changed on 78.28 Australian cents from 78.24 cents.
The kiwi dropped to 50.37 British pence from 50.82 pence. It slipped to 63.10 from 63.42 yen.