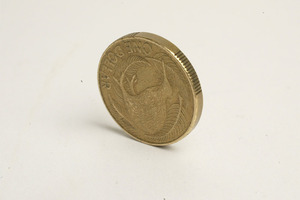 The New Zealand dollar fell more than half a US cent amid concerns over how Spain will shore up its banking sector and an opinion poll showed growing support for Greece's anti-bail-out party, sapping demand for growth-linked currencies like the kiwi.
The New Zealand dollar fell to 75.40 US cents just before 8am from 76.03 cents yesterday at 5pm. The trade weighted index decreased to 69.14 from 69.48.
Investors' concerns are mounting about how the Spanish government plans to recapitalise its banking sector after the countries fourth-biggest bank Bankia SA sought a 19 billion euro bailout earlier this week.
The European Commission has called for direct euro-bloc aid and touted a region-wide deposit guarantee system. In Greece, an opinion poll showed citizens wants to see the terms of a European Union rescue revised, and the anti-bail-out part, Syriza, has regained voter support.
"It's the continuing European story with the Spanish banking sector and how they are going to deal with it and the surprise of the Greek poll," said Stuart Ive, currency strategist at HiFX.
"The kiwi is under a certain amount of pressure."
"Support still remains for the kiwi at 74.50 US cents - if we saw a continuation the first stopping point will be 75.10 cents," he said.
Greece will go to the polls for a second time on June 17 after a May election failed to produce a new government. The latest polls also showed that the radical left-wing party is now in lead.
Greece's New Democracy, which supports the rescue plan negotiated with global leaders, had previously been placed first in six opinion polls published last weekend.
The New Zealand dollar was little changed at 60.91 euro cents from 60.98 cents as euro-zone consumer confidence figures fell to 90.6 in May, according to the European Commission. That's a bigger-than-expected drop and puts the index at its weakest level since October 2009.
The yield on the Italy's benchmark 10-year government bonds climbed above 6 per cent for the first time since January, while those in Spain moved closer to the 7 per cent level that traders see as unsustainable.
The US housing market remains uneven in the world's largest economy as home sales unexpectedly dropped 5.5 per cent in April, according to National Association of Realtors data. The median forecast in a Bloomberg surveyed predicted no change.
US employment change, gross domestic product (second estimate) and initial jobless claims are due out today in America, followed by non-farm payrolls tomorrow.
Payroll figures are expected to have climbed by 150,000 workers in May, from 115,000 a month earlier, according to a Bloomberg survey.
In New Zealand, the Reserve Bank's credit and monetary aggregates and the National Bank of New Zealand business outlook are due for release this afternoon.
The kiwi dollar was little changed at 48.65 British pence from 48.68 pence and decreased to 59.57 yen from 60.41 yen. The kiwi was little changed at 77.53 Australian cents from 77.60 cents.