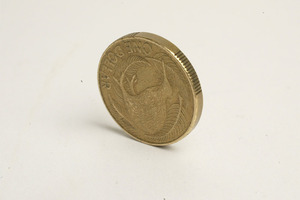 The New Zealand dollar rose against the euro after Spain backtracked on its recapitalisation plan for the recently nationalised Bankia SA, stoking fears the nation may need a rescue package and sapping investors' appetite for the region's single currency.
The New Zealand dollar rose to 61.01 euro cents at 8am from 60.70 cents yesterday at 5pm. The kiwi was little changed at 76.21 US cents from 76.10 cents yesterday. The trade weighted index increased to 69.54 from 69.36.
The euro sank as much at 0.6 per cent, recently trading at US$1.2501, after Spanish Prime Minister Mariano Rajoy made a plea for his nation's ailing banks to tap the European Financial Stability Fund directly, backtracking on plans to saddle Bankia with government debt to shore up its books. The fragility of Spain's banking system has spooked investors, who fear it may lead to a deepening of Europe's sovereign debt crisis.
"The euro fell considerably lower overnight so that is a bit of a break for the kiwi," said Stuart Ive, currency strategist at HiFX. "The New Zealand dollar failed to break its resistance and is back in that channel of 75.70 US cents to 76.50 cents - we are bouncing around between world growth and the situation in Spain," he said.
Euro-zone consumer confidence figures due out today are expected to show the region's confidence fell 19.3 points in May, according to a Bloomberg survey.
The Chinese government has announced it will not induce any further stimulus to help bolster its economy. That comes as New Zealand's second-largest export market prepares to release its official performance of manufacturing index on Friday, after last week's HSBC flash purchasing manufacturing index showed an April contraction. If the number is confirmed it will mark the longest run of below 50 readings since the start of the financial crisis.
"It more of a footnote at the moment," Ive said. "It would come into play if we saw a significant difference in Chinese data over the next couple of months."
US home prices in 20 US cities fell 2.6 per cent in the 12 months ended March, according to the Case-Shiller home price index. That's the slowest pace in more than a year as an improving job market and lower borrowing costs gave sales a boost.
Pending homes sales will be released on today, with investors searching for further signs that the housing market is stabilising after new homes sales rose 3.3 per cent in April, while existing homes sales climbed 3.4 per cent to their best annual pace since May 2010 last week.
In the local trading session, investors will be looking for signs of life in Australia's retail sales scheduled for release this afternoon. The New Zealand dollar rose to 77.44 Australian cents from 77.29 cents yesterday.
In New Zealand building consents for April will be released by Statistics New Zealand this morning.
The New Zealand dollar climbed to 48.80 British pence from 48.55 pence yesterday and advanced to 60.63 yen from 60.47 yen.