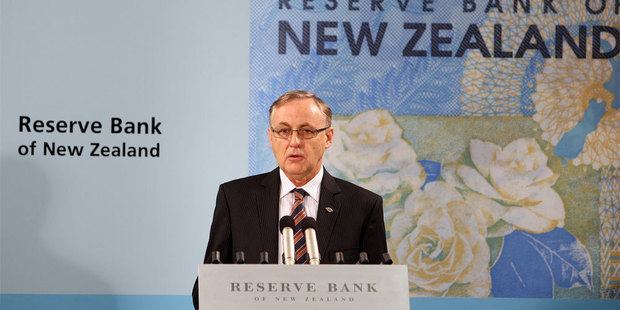 New Zealand wage inflation slowed in the first three months of the year, leaving overall labour costs benign enough to let the central bank keep interest rates on hold for longer.
The labour cost index rose 0.4 per cent in the three months ended March 31, according to Statistics New Zealand. That's just short of the 0.5 per cent forecast in a Reuters survey of economists.
Private sector wage costs grew 0.5 per cent, according to Statistics New Zealand. Private sector staff in the agriculture, fisheries and forestry sectors reported the fastest wage growth at 0.8 per cent.
The tepid pace of wage inflation will let Reserve Bank Governor Alan Bollard continue to hold off raising the official cash rate as he contends with a strong currency damping imported inflation and volatile overseas markets raising the threat of volatility.
Last week, Bollard kept the benchmark interest rate at a record-low 2.5 per cent, and issued another warning about the strength of the kiwi dollar.
Total private sector average hourly earnings jumped 1.3 per cent to $24.90 with a 2.1 per cent gain in overtime, according to the Quarterly Employment Survey, released at the same time. Reuters economists were picking a quarterly gain of just 0.5 per cent.
Total public sector hour rates jumped 2.8 per cent to $34.82, and the overall hourly rate rose 1.4 per cent to $26.96.
Today's figures come before Thursday's household labour force survey, which is expected to show the unemployment rate stayed at 6.3 per cent, and the participation rate crept up 0.1 percentage points to 68.3 per cent.
The QES figures show total filled jobs dropped 1.2 per cent to 1.69 million in the quarter, though were flat on a seasonally adjusted basis. Full-time equivalent positions fell 0.6 per cent to 1.33 million in the quarter. FTEs were up 0.1 per cent when seasonally adjusted.
The bulk of the quarterly decline came in education and training, which shed 22,100 FTEs, or 18 per cent, to 104,300 in the period, though the quarter captures the school holidays and the annual decline 3.6 per cent was smaller than normal.
Electricity, gas, water and waste services added 5.5 per cent, or 600, FTEs in the quarter to 11,600, while manufacturing FTEs grew 4.8 per cent, or 8,000, to 175,200. Construction FTEs grew at a quarterly pace of 0.9 per cent to 91,500.
Total weekly paid hours shrank an actual 0.6 per cent to 51 million in the quarter, short of the 0.4 per cent growth picked by economists. Paid hours fell 0.5 per cent when seasonally adjusted. That's the first quarterly decline since December 2010.