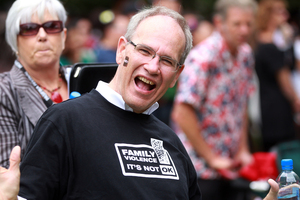 Auckland Mayor Len Brown was covered in lamington for a second day running - but this time it was all in jest.
Brown sported a painted lamington on his face at the Pasifika Festival yesterday, the handiwork of a couple of mischievous kids.
Brown said: "I was at an arts gathering this morning and the kids said 'Hey, can we do a face painting and do a lamington on your cheek?' And I said, 'Yeah, lets turn the other cheek'."
It came a day after the mayor had lamington thrown at him by an angry supporter of Auckland's striking wharf workers at Auckland University.
Despite the embarrassment, Brown said he had no plans to press charges against the protester who threw the cake.
"Of course not."
And the incident hasn't put him off going back to Auckland University for public debates in the future. "It's my alma mater, I'm always at home in the university.
And look, it's a city with freedom of speech, sometimes people get a little bit enthusiastic but you've got to expect that I guess. I do want the cake given to me next time and not delivered in my face.
"I prefer to eat lamington rather than wear it."
Brown was in high spirits at the 20th Pasifika Festival in Western Springs yesterday.
"Look it's huge, and we're lucky - the 20th anniversary and it's not too hot. Auckland's turned on the perfect day really. Really good atmosphere, good spirit around the place, the whole thing's great.
Prime Minister John Key, who also attended the festival, described his talks yesterday morning with Australian Foreign Minister Bob Carr as "wide ranging but constructive", and said the two had talked about a range of topics from their relationship to the weather, and also Fiji, Iran and Israel. He said Carr was supportive and "very positive" about Australian Prime Minister Julia Gillard.
- APNZ