Crusaders coach has things in perspective as he eyes another shot at Super title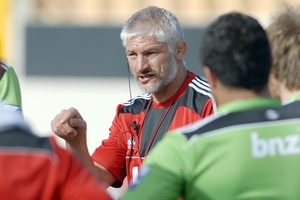 Todd Blackadder lives in a house about a kilometre from Crusaders' headquarters in suburban Christchurch.
The former All Black captain's double garage houses a jetboat, motorbike, two mountainbikes, and the reminders of a rugby career spanning two decades - boots, caps, sponsors' paraphernalia - it's all there stacked neatly and sometimes not so neatly. There's no room for a car.
It is the garage of someone with many interests, of someone who doesn't take himself too seriously, who has things in perspective. The mountainbikes explain why he has lost so much weight over the past couple of years.
He heads for the flowing tracks of the Port Hills at every opportunity; it's a chance to clear the head as well as tax the body.
And that perspective, which has evolved over the past five years as the main man at the Crusaders, might just help him win his first Super Rugby title as a coach this season after claiming three as a player.
"Balance" is one of the catchwords of professional rugby - no longer do players have day jobs to take their minds off the game. A bad performance or training session can be a real downer for young men with nothing meaningful to do away from rugby. Blackadder appears to be someone who can put the game in its place and the form of his team suggests his players have struck the right balance this season too.
His players, and particularly his eight All Blacks, are playing with a freedom and enjoyment which has not been seen under his reign so far.
Having so many All Blacks in his team can be a curse as well as a blessing.
In these times of almost constant rugby, something has to give and for players in the national team more often than not it's Super Rugby.
The key to coaching success, apart from the constant man-management and technical aspects of the trade - the actual coaching and selections and so on - might just be the ability to disguise how desperately you want to win; the ability to cut some slack and have a bit of fun along the way.
It's not easy to do when your contract is running down and the expectations at your franchise are so high, but it is something Blackadder, 41, learned last year after a season which ended at the hands of the Chiefs in Hamilton at this same semifinal stage.
Winning, he says, can't be the only objective. It has to be the byproduct of a successful, enjoyable season.
The last point is important because while the Crusaders have made the semifinals in each of the five years Blackadder has been in charge, they have failed to go the whole way and add to their seven titles. They got close in 2011, making the final of the earthquake-disrupted season, but last year was a grind, as was 2009 and 2010, both of those seasons ending with defeats to the Bulls in South Africa.
This season feels like a renaissance for the Crusaders. They are for the first time under Blackadder hitting the play-offs with the momentum of a bull charging a gate. Dan Carter is in the best Super Rugby form for years (is the thought of an impending sabbatical playing a part here?) and fullback Israel Dagg has rediscovered his x-factor. The forwards, led by Corey Flynn who is hitting rucks like never before, and Sam Whitelock, have gone up several notches in intensity.
A stimulating environment has played its part, too, and added to the fun aspect. Angus Gardiner, the Crusaders' manager, organised for the team to go on a mystery bus tour to training once the team's All Blacks came home from the June internationals; rather than making a return to the Crusaders a comedown, it was fresh and different - the banter on the bus all part of it.
It now appears Blackadder, as well as his assistants Dave Hewett, Tabai Matson and Aaron Mauger, will be retained by the Crusaders board beyond this year.
Often tipped as a future All Black coach - as well as Scotland's recently - Blackadder has no intention of moving from the Crusaders if he can help it. There's still so much to learn, he says, and there are titles to win.
For Blackadder, thinking too far ahead would affect that unique balance he has worked so hard to achieve.
- APNZ