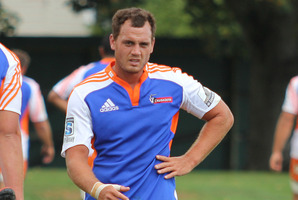 He came the nearest of any Crusader to scoring a try against the Blues in their first encounter this season and made a statement when coming off the reserves bench against the Brumbies, yet Israel Dagg's failure to crack the starting XV tonight is down to his lack of confidence, says Todd Blackadder.
The Crusaders coach said it would be unfair to throw the All Blacks fullback straight back into the fray when he was still struggling with his game.
Blackadder said telling Dagg he wasn't starting wasn't easy, yet after the initial disappointment the 24-year-old understood the reasons.
Instead, the reliable Tom Taylor gets the nod for the No 15 jersey.
"It is a reward for Tom Taylor's performance but also to boost Israel's confidence," Blackadder said.
Many would have assumed Dagg's state of mind was in good shape following his late cameo in the Crusaders' excellent victory over the table-topping Brumbies a fortnight ago before last weekend's bye.
Dagg was heavily involved in the try of the match when initiating an attack deep in his team's territory and finishing off the move which involved Robbie Fruean and Tom Marshall, much to his and his team's delight.
Not so, according to Blackadder.
"Yes, he made a statement against the Brumbies, and did brilliantly after coming on, but we don't want to heap that pressure back on him and put him back in the hot seat by putting him straight back in. Confidence is an issue.
"Many of his frustrations earlier were about how the team was playing, and he was starting to put a lot of pressure on himself. He's a special player, no doubt, and he will clearly have a role to play in this match."
Lack of confidence apart, it is unusual to see the player many consider to be the best fullback in the world on the reserves bench for two hugely important matches.
A victory over the Blues could allow the Crusaders to overtake them for second on the New Zealand conference.
Their win in Canberra, which featured a masterclass of defensive strength and overall commitment from the Crusaders' forwards, was also hugely significant.
Part of the reasoning could be down to Dagg's defence, which hasn't been that impressive this season.
Blackadder is expecting wet conditions in Christchurch and for the Blues to reprise their strategy from their five-tries-to-none Eden Park victory of kicking in behind the defensive line.
Taylor hasn't got the attacking x-factor of Dagg, but is probably a better one-on-one defender.
In a match expected to be similar to a test in terms of intensity, it could be the team with the better defence that comes out on top.
The Blues haven't won in Christchurch for nine years, but that weight of history won't be a factor for Sir John Kirwan's young side, Blackadder said.
But he hopes the Crusaders' Addington ground, at which they have never been beaten, remains a difficult place for opposition teams to visit.
"It's our home. I think it's a great stadium. It's close and personal, you can feel the atmosphere. We want to make it as uncomfortable as we can.
"We are difficult to beat there."
Meanwhile, Blackadder said he was still unsure whether Richie McCaw would return to play after next month's test series against France.
McCaw has spoken of the possibility of playing and it's probably significant that All Blacks coach Steve Hansen has backed off a little on his initial statement that McCaw would be playing only club rugby in the lead-up to August's Rugby Championship.
"I haven't had a conversation with Richie yet," Blackadder said.
"I've suggested we should catch up for a beer but that's the extent of it. He'll knock on our door when he's ready to come back."
APNZ
- APNZ