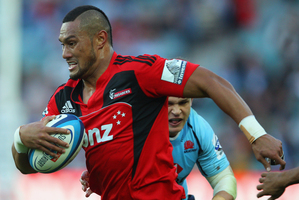 Style has not been Robbie Fruean's problem to date; it has been substance.
Not everyone has appreciated his faults given the blinding quality of his power game.
It's all too easy to be seduced by Fruean - to see his 110kg frame in full flight; his pace, agility, awareness and timing can be an exquisite package.
As he showed last week in Sydney, he can be deadly.
His one-man demolition of the Waratahs was his first major performance of the season and should be seen only as a reminder of his strengths rather than evidence he's turned a particular corner.
Fruean is like a sleeper cell: no one really knows when or where he will come to life and just how much damage he'll cause.
For long periods in between, he's a ghost and, although it's unkind, he's been the Sione Lauaki of the Crusaders back division since he joined in 2010.
The All Black selectors were falling for him last year when it felt like he was rewriting the possibilities of what was achievable.
The explosive power of Fruean was irresistible in the first half of last year - at least once, if not twice, a game, he'd blast through the defensive line, tumbling opponents like they were skittles.
Of course the All Blacks were interested but when they put Fruean's game under scrutiny, it left them underwhelmed.
In between the big busts, there wasn't much. His work rate was poor: his desire to track back wasn't obvious and he spent an age on the ground after making a tackle.
There was little urgency or contribution and the conclusion was reached that he would in fact be a liability if selected for the All Blacks where team patterns were built around enormous work rates.
There was some frustration at that conclusion, as the coaching panel were sold on the good parts of Fruean's game.
He would have made a difference and although they moved away from him last year, they never shut the door.
Who wouldn't want to see Fruean in the test arena? His attacking game is so compelling that it would be madness to write him off so young.
His orders were relatively simple this year: to up his work rate, be more involved without the ball and not spend such long periods inactive.
"Robbie was easily the form centre through to about round 10 of last year's competition," says Crusaders assistant coach Daryl Gibson. "He had played in most of our games up until then and that workload started to show in his performances and the All Black selectors knew they had, in Conrad Smith and Richard Kahui, centres with complete games.
"That's the challenge for Robbie this season - to improve his all-round game and show he can offer everything. I think he's made good progress, too. He's got a good passing game that he's not always given credit for and he's developed a kicking game as well.
"Defensively when he came to us, he had a few deficiencies but we have seen these ironed out in the last three years. He's made giant strides on his all-round game."
The great hope at the Crusaders is that Fruean is going to sustain his form through to the finals.
When his performances tailed off in the business stages of last year's competition, the Crusaders lost some of their attacking thrust. Playing well under pressure is the best way for Fruean to prove he's ready to make the step up.
His path to the big stage was a little unusual. He came from Porirua High School - not a renowned rugby institution - and some of his basics were lacking despite making national age grade teams.
"I think his development is pretty similar to a lot of people who have dominated physically at school," says Gibson. "He was able to do things one way at school and has had to find a different way in the professional game."
His lack of grounding in the sport's basics was compounded after missing all of 2008 and most of 2009 due to a serious heart condition.
After being the IRB world under-19 player of the year in 2007, Fruean contracted a virus that led to him having open heart surgery.
He lost the limited conditioning base he had in that period and was way behind his team-mates physically when he joined the Crusaders in 2010.
Both Fruean and the Crusaders now believe they have a better handle on his physical capabilities. He doesn't do any long running and mixes up his aerobic work more than most of his peers.
Still only 23, Fruean is now capable of playing for 80 minutes each week - something that was beyond him in 2010, says Gibson.
Today's revenge clash against the Reds in Christchurch seems as good a place as any for Fruean to prove he has the work rate, defensive understanding and all round game to keep the All Black selectors interested.