For a holiday where the travel subsumes you, Queen Mary 2 is a big ride.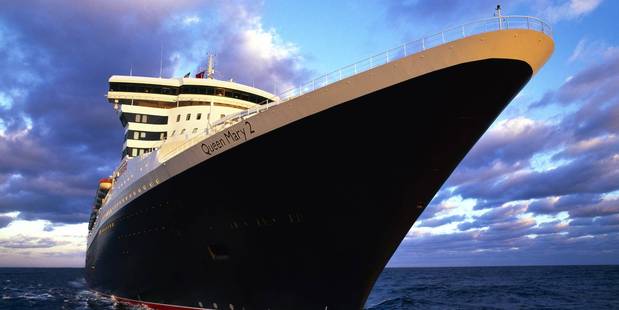 The ocean liner Queen Mary 2 has something in common with Uluru, the Taj Mahal - and even Christmas.
When it comes to size, grandeur and tradition, they remind you that we're all pretty insignificant compared with any of them.
Her sheer size is almost double that of her famous predecessor. At 345 metres long, she can accommodate more than 2600 guests in more than 1300 cabins.
As soon as you enter the six-storey Grand Lobby, you are given an idea of the vessel's scale. There are eight shops and boutiques as well as nearly two square kilometres of beauty spa, with 24 treatment rooms.
Our voyage departs Sydney around midnight. As we farewell the Opera House and Harbour Bridge from the rear deck's extra-high view, the reggae band belt out tunes. It's a magnificent way to set off on an adventure.
There's a United Nations of staff on board and, to our surprise, the ship becomes an unexpected place to learn tidbits about Latvia, the Philippines and South Africa - with the fabulous mix of nationalities that work on this famous liner that cruises the world's waters.
And catering to all nationalities there is so much to eat, and lots of places to eat at.
Queen Mary 2 has more than 10 restaurants and cafes, featuring the three-storey Britannia Restaurant, which seats more than 1300 people. Although the restaurant is enormous, it does still maintain an intimacy.
Other meal options range from fine dining at the Todd English restaurant to the informal King's Court for buffet-style fare.
At night the food court area is transformed to create smaller dining styles, including Asian, Italian and a carvery.
Activities abound - to help work off all the food that is so tempting. Basketball and golf are among a range of sports available - or you can just return to one of the 14 bars and clubs.
So those lazy days there are the cruise ship-obligatory spas and swimming pools, one with a retractable roof.
For more restful pursuits, Queen Mary 2 has the largest library at sea and a planetarium, which helps you lose yourself even further in the holiday experience.
I tend to wander, so it takes me a couple of days to know my way around. But beware the perils of high winds from the top deck - on a gusty day at sea it feels like you could be blown away.
To travel on the Queen Mary 2 is also a reminder of the glory days of her famous predecessor.
Passageways show candid reminders of Queen Mary's years of glamorous service to dignitaries, celebrities and royalty.
Winston Churchill, Elizabeth Taylor and The Queen Mother are among those paid homage to. There's a lot of history - in which a small way I am now part of.
There are six varieties of cabins on board, from the windowless indoor staterooms to the lavish Queens Grill suites and apartments (that come with their own butler) to cater for big spenders that expect extravagance.
The people lucky enough to occupy these rooms are treated as stars. (As a couple of the staff joked, the Queen's Grill passengers get whatever they want.)
While Queen Mary 2 only entered service in 2004, she has long-held traditions to continue.
Cunard merged with rival the White Star Line in the 1930s and continues in name the Line's quality level of service.
Taking afternoon tea in the Queen's Room, one can imagine the opulence you would feel early last century, with staff donning long white gloves serving tea and finger food.
The experience is made even richer by the almost total absence of people pecking at their smartphones and snapping pictures of their refreshments.
I found small gripes, as you would with anything of this scale but Queen Mary 2 is no leviathan.
The auto-debited gratuity charge was irritating. On the other hand, it's difficult to thank staff that will not accept cash tips, even when you see that they have gone out of their way for you. The auto-tipping fee can be removed if you speak to the purser's office.
The coffee draws a pretty mixed response with passengers. If the mild blend found everywhere on board is not to your taste, look out for the Nescafe secreted around King's Court by stewards.
Carnival Corporation, Cunard's owner, has worked hard to produce the old-world charm aboard Queen Mary 2.
While she impresses with details of her massive scale and logistics, the gestalt works to make you feel important while on board.
And while a holiday works best if you can immerse yourself in the experience, Queen Mary 2 gives no option but to take you on its version of opulent escape.
IF YOU GO
GETTING THERE: The QM2 offers the only scheduled Transatlantic liner service with 7-8 day cruises between Southampton and New York, running from April to January, as well as her annual World Voyage between January and April.
STAYING THERE: She has more than 1300 rooms, 14 bars and clubs, 10 restaurants, the largest library and ballroom at sea, and a planetarium.
There are six varieties of cabins on board, from the windowless staterooms to lavish suites.
PLAYING THERE: There is plenty to keep you entertained onboard the QM2. To find out more head to cunardline.com.au.
- AAP