Seven days, five breakfasts. Ewan McDonald eavesdrops on fellow passengers getting away from a Kiwi winter on a Pacific cruise.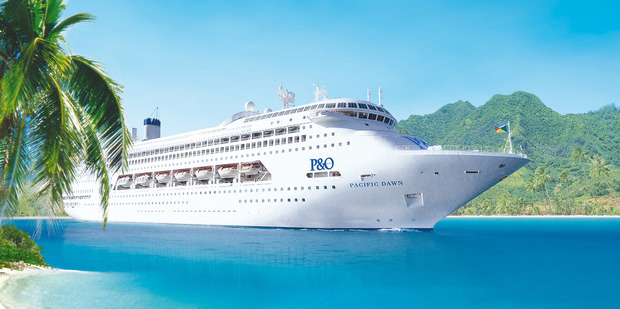 Renee and Phil left their Northland home at 3am, drove to Auckland Airport and got on the 6am flight to Brisbane. It's part of the package deal: they were shuttled to Portside cruise terminal in time to board their ship at 2pm for the seven-day voyage to Noumea, Lifou, Port Vila and back to Brisbane. They're not alone: a dozen other members of their not-too-extended family are coming along for the ride. There would have been two more but a nephew is laid up after a hip replacement. Renee and Phil are looking forward to seeing new places; others are more interested in the karaoke nights and lazing about the pool deck in the sun watching movies on the big outdoors screen. Why bring the family on holiday? They clubbed in to buy the cruise for Renee and Phil. It's her 80th birthday.
For Chris and Caroline it's the last holiday before the older of their two girls starts school. "This is the only way for a mum to have a real holiday," Caroline declares. "Everything is looked after.
So there's no cooking or cleaning or washing or organising. If we go camping or even to a motel it's more work for me than it is at home. Georgia [the four-year-old] would rather be at the Kids Club than hanging around our feet. She's been on the boat one day and she's made a friend already. I can go and get my hair done or have a manicure and we can go to a show at night and know they're safe and looked after." Caroline has her week planned: "Today is the spa, Monday is Zumba, Tuesday is yoga, Wednesday is... oh, we're in Noumea on Wednesday." Actually we're in Noumea on Tuesday, but it's easy to forget what day it is.
George is from Leeds, Joan is from Liverpool. They met in Headingley - not at a test match, on a blind date. When a drunk hassled Joan, George took matters into his own arms: he asked her to dance. One thing led to the other. Some years later when George's employer promised him a promotion, then reneged, Joan took matters into her own hands. "She brought home some forms and told me to sign there, and there, and there," recalls George. "A couple of days later I said, 'When are we getting that new sofa I signed up for?' and she said, 'You silly old fool, you've signed the papers to emigrate to Australia'. We went down to the Town Hall and they showed us a film with pictures of houses with swimming pools and real kitchens and yards. We were on the boat within weeks." It was 1970 and they were among the last of the Ten Pound Poms, on the Fairstar. "That was 42 years ago and we've been saying ever since, 'We must go on a cruise'. We've finally got around to it." George and Joan celebrated their 53rd wedding anniversary last night with a bit of a do: they went to the stand-up comedy show that finished around 12.30am. "He was f-ing and blinding every second word. Then he drank an entire bottle of beer in one gulp." George sounds disapproving. Then again, he may be impressed.
An American accent sounds alien amid Kiwi and Queensland twang. Dave and Cheri are from Canada. Work brings them down this way: Cherie is the financial manager of a cleaning franchise and has been visiting the Australian and NZ divisions for the past six weeks. Dave owns a franchise back home. So this was a way to see another side of the world? "Yes and no," laughs Cherie. "We have 36 of our 40 New Zealand franchisees on board. They'll do the same as everyone else on the cruise, going on shore visits and so on, until we leave Port Vila on Wednesday night. Then while we're at sea all day Thursday and Friday they'll be at work. We're holding the annual convention on board. They do it every year - they've been to Fiji and Rarotonga and Samoa before." Dave says Cherie is doing it hard, knowing she has 200 emails already, more coming in by the hour, and he has banned her from the internet so she can relax. "The IT manager is the one who's finding it hardest to wind down. He keeps going to the ship's engineers and asking them to improve wireless reception at sea. You can see his fingers literally itching. We're trying to see if we can wean him off the net until he really needs it." Have they considered cocktails? He doesn't drink.
Josephine is serving drinks and clearing tables on the pool deck 12 storeys above the Port Vila wharf. Today the Pacific Dawn is the tallest building in her hometown. Did she catch up with her family? "No." That's a pity. "It's all right, I'll be back next week." Josephine thinks she has it easier than her Filipino room-mate who has two youngsters, one aged 3 and the other 9 months. She lives nine hours from Manila and is away for four to six months; her husband is a full-time dad. Two senior crew, both British, are married and have just managed to get assigned to the same ship. They're wondering whether it's time to start a family. "We're entitled to a single cabin each so we could use one and the other could be for the baby and a nanny."
Friday's breakfast is the last before tomorrow's early arrival at Brisbane. Thoughts are turning to the next cruise. At a mixed platter of Aussies and Kiwis an urban, or oceanic, myth starts to do the rounds: "There's a couple on board who are on their 119th cruise, back to back. They'll stay on the ship when it gets into port at 6am and leave again in the afternoon. She's poorly so she can't cook or clean and he doesn't want to. Makes sense when you think about it - no rates or paying for a car or food, he doesn't have to go to the supermarket or do the gardening. You're waited on hand and foot. And there's a doctor on board." P&O later confirms yes, the story has been exaggerated. The couple are finishing their 110th cruise at 6am and sailing away on their 111th at 2pm.
Renee, Phil and family land at Auckland on Saturday afternoon. On Monday they're at the travel agents to book next year's cruise. There may be two more aboard this time: the nephew with the dodgy hip should be fit enough by April.
Stories true, some names changed.
CHOOSE YOUR VESSEL
Pacific Dawn: P&O Cruises' Pacific Dawn is based in Brisbane, offering cruises to the Pacific including New Caledonia, Vanuatu and Fiji.
Fares on Pacific Dawn's week-long cruises to the Pacific Islands departing Brisbane start from NZ$769* per person quad share. Fares for interconnecting cabins start at $819* per person quad share (*subject to availability).
Fares include accommodation, main meals, onboard entertainment and activities.
Pacific Pearl: From April 2013 P&O Cruises' Pacific Pearl will be based in Auckland, with her first cruise - a 10-night voyage to the Pacific Islands - departing on 19 April.
Pacific Pearl will also do short break tours out of Auckland, with the first three-night food and wine cruise sailing on 18 May.
For more information and bookings contact a licensed travel agent or P&O Cruises on 0800 780 716.
Ewan McDonald cruised courtesy of P&O.