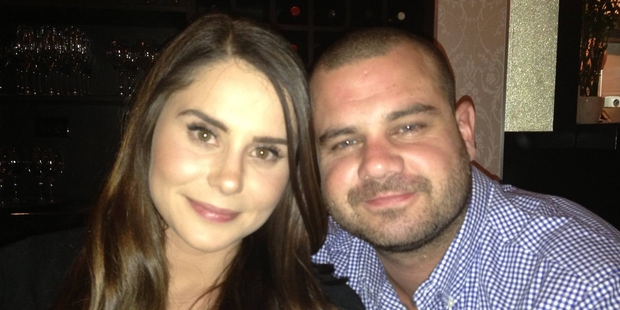 Millie Elder-Holmes gasped from the public gallery of the High Court today after hearing the man accused of killing her partner would defend the charge.
Along with the majority of those sitting in the public area of the High Court in Auckland today, she was wearing a white T-shirt emblazoned with Connor Morris' face and a message for him to "rest easy".
Ms Elder-Holmes sat by Mr Morris' parents as they reacted, first at hearing a not guilty plea entered to the murder charge and again when they learned the 33-year-old West Auckland man would keep his name suppressed.
It was too much for the victim's father and high-ranking Head Hunter Chris Morris who stormed out of court.
"He should've thought about name suppression before he killed my son. F***ing egg," he said.
The defendant's lawyer Marie Dyhrberg, QC, said there had been threats to the safety of her client and his family and asked for name suppression to continue until his next appearance.
But Justice Timothy Brewer suppressed names of the defendant's family and where they were living, as well as where the accused was on remand, but declined him name suppression.
Ms Dyhrberg indicated she would appeal against that decision, extending suppression until at least Friday morning pending her filing that application.
The defendant was excused from the hearing today but that did not restrict a huge turnout in support of the Morris family.
Mr Morris, 26, suffered a fatal head injury during a confrontation outside a party in the West Auckland suburb of Massey exactly one month ago.
He was held by Ms Elder-Holmes, his partner of six years, as he lay dying.
The man accused of his murder was arrested by Auckland police in the Kaitaia area more than two weeks later and his first court appearance took place behind closed doors in the Far North.
With the victim's gang connections, security at the High Court was beefed up.
Extra security guards had come from Auckland and Manukau District Courts to screen people as they entered the building and there were several police officers present.
However, there was no serious trouble inside or outside court.
The defendant was remanded in custody and will be back in court in November. A four-week trial was scheduled for August next year.
Family on the RIP Connor Morris Facebook page hoped for the defendant's name to be made public before his next appearance.
"Such a bitter sweet day today, but a massive thank you to everyone that turned up", they posted.
- APNZ