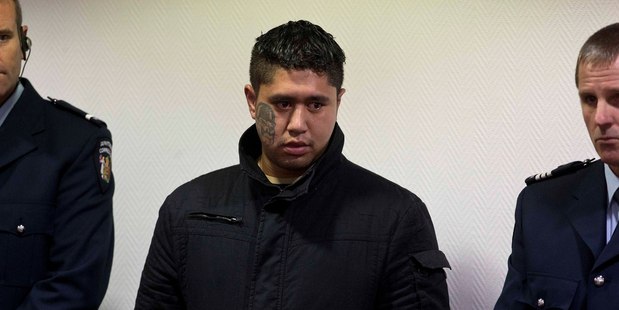 Mauha Huataki Fawcett was raised by gangsters.
Smoking cannabis at the age of eight, using methamphetamine at 14, he participated in the "gangland execution'' of Christchurch prostitute Ngatai 'Mellory' Manning to earn his Mongrel Mob patch at 21.
A judge today noted Fawcett's "unfortunate upbringing'' and the fact his father died when he was 13.
But there was no avoiding the fact the young gang prospect known as Muck Dog, with a bulldog tattoo on his face, took part in one of the most brutal murders in recent New Zealand history.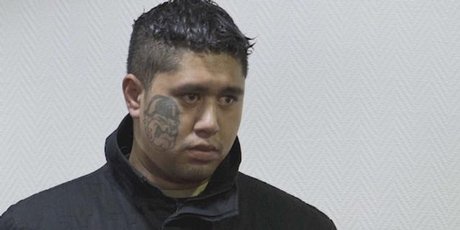 "There could hardly be a clearer case of a murder committed with a higher level of brutality, cruelty, depravity and callousness,'' Justice David Gendall said at the High Court in Christchurch.
He sentenced Fawcett, now 26, to life imprisonment with a minimum non-parole period of 20 years.
Miss Manning, a sex worker, was working on the night of December 18, 2008, when she was picked up at her usual spot at Christchurch's red light district by members of the Aotearoa chapter of the Mongrel Mob.
She was driven a short distance to the Mob's pad at Galbraith Ave where she was raped, stabbed, and beaten with fists, boots and homemade weapons.
In March, a jury of six men and six women unanimously found Fawcett guilty of murder.
The harrowing trial heard that Fawcett and other gangsters, who have not yet been caught, stood around Miss Manning's mutilated body, shouted `Sieg heil' and barked like dogs.
Her body was dumped in the Avon River nearby.
"It is hard to understand any reason that would justify such a brutal homicide,'' Crown prosecutor Phil Shamy said.
The police investigation into Miss Manning's death is ongoing.
Her brother Rob hopes that the other killers will one day be brought to justice.
So does Miss Manning's ex-partner and minder Kent Gorrie.
He says he won't be happy until "the rest of them get charged''.
''[Police] know who they are. I can pretty much name them - I wouldn't, but he [Fawcett] has named them all,'' he said outside court.
Mr Gorrie didn't accept Fawcett's troubled upbringing was an excuse.
He said he knew Fawcett growing up, describing him as a "muppet ... just a wannabe''.
"He wanted to fit in with anyone - it just happened to be the Mongrel Mob.
"I didn't know his father was in the Mongrel Mob. His mother tried to keep him away from all of that. Yeah well, he's done the family proud, hasn't he.''
Detective Senior Sergeant Brian Archer today said Fawcett's conviction and sentencing was "a significant step'' in the police investigation.
"There is, however, no dispute that other people were also involved in this murder, and police are continuing to actively pursue those individuals,'' he said.
Police are continuing to appeal for information.
- APNZ