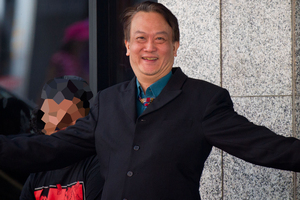 An Auckland lawyer found guilty of misconduct for ignoring disciplinary findings against him is facing suspension from the profession.
Boon Hong appeared before the Lawyers and Conveyancers Disciplinary Tribunal in Auckland for a hearing yesterday.
The tribunal last year found him not guilty of a separate misconduct charge over allegations he threatened another lawyer with his dogs and "the sorry end of my stick".
Yesterday's hearing was similarly colourful, with Mr Hong offering to show tribunal members his legs, which he said carried proof he was suffering from allergies due to overwork.
The tribunal heard that in February last year the New Zealand Law Society standards committee found him guilty of providing incorrect legal advice to the police over a property dispute and ordered Hong to pay a $1000 fine, costs of $1000 and attend a training course.
Law Society lawyer Paul Collins said Mr Hong had not made the payments and not attended the course, so was guilty of misconduct.
Tribunal chairwoman Judge Dale Clarkson agreed. She said a penalty hearing would be held at a later date and Mr Collins indicated he would be seeking for Mr Hong's practising certificate to be suspended.
Judge Clarkson said it was "disrespectful and dishonourable" for Mr Hong to ignore an order from an industry body.
"In order for the profession to maintain its reputation, its disciplinary processes must be seen to be credible and respected."
Representing himself, Mr Hong said he never received a copy of the standards committee judgment, which he did not agree with.
Mr Hong said he was the victim of a miscarriage of justice but was told yesterday the tribunal did not have the authority to hear arguments about the validity of the judgment.
He planned to file an application for a High Court judicial review of the standards committee decision, but hadn't yet done so because he was snowed under at work.
It was this explanation that prompted the offer for committee members to look at his legs.
"Do you want me to show you my legs? It's horrible. It's all from work pressure."
The offer wasn't taken up.
Mr Hong said the standards committee findings were a "nullity" and he could not act in accordance with something his conscience told him was wrong.
He said he didn't think non-compliance with the order was too big an issue, something Mr Collins said was "demonstrative of a contemptuous attitude".
After the hearing, Mr Hong said he hadn't realised the tribunal couldn't deal with the original decision. He would now file his judicial review application as a matter of urgency.
Mr Hong maintained the advice he gave out was not incorrect.
- APNZ