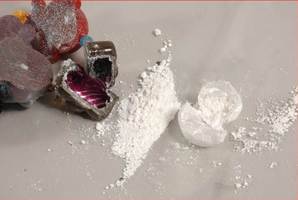 Even the hardened detectives who brought him to justice describe Bert Leonard Jury as a devoted family man.
Jury was found guilty on Tuesday of five charges of supplying more than a kilogram of cocaine. The cocaine, with a purity of up to 85 per cent, was sent to New Zealand from South America concealed in parcels of Barbie electronic games, gemstones and tins of food.
In the period between being charged and found guilty at trial, Jury's beloved mother, Ursula, died, and he became a father.
Jury is said to be "gutted" he will miss out on seeing his young child grow up. "He's quite close to the kid, he's quite a proud dad," said one detective.
"I do believe he's a considerate father and husband. Unfortunately, he's done the crime and he's going to have to pay the consequences."
Jury hated the limelight, and once phoned a Herald on Sunday reporter to politely request nothing further be printed about him.
Jury lived with his mother at her bungalow in Westmere, Auckland, until well into his forties.
In 2009 Jury regularly took Ursula to an inner-city gym for physical therapy. While there, he carried out drug transactions away from prying eyes in the basement, the court was told. He bought cocaine in amounts of $120,000 and $60,000.
His mother died in late 2010, and last year he moved out of the house he had lived in since he was a child. It was later sold at mortgagee sale.
Jury had a history of run-ins with police. The most dramatic was in May 2012 when armed officers shot his pet rottweiler while doing a bail check at his Westmere home.
Last Saturday night, as a 12-member jury was sent home for the weekend to deliberate his fate, Jury was arrested for breaching bail again, deprived of his final few days of freedom with his family.
Jury first came to the attention of Operation Ironclad detectives while investigating Nigerian Kindness Agwu. Led by Detective Sergeant Geoff Baber, the vast police inquiry, taking up thousands of police manhours, eventually reached a conclusion on Tuesday.
Agwu, a Nigerian semi-professional footballer, blamed everyone but himself, claiming he had been framed. But the jury found him guilty of 15 counts of importing cocaine and selling 8kg of the drug.
Hundreds of thousands of dollars in Western Union transfers went overseas to Agwu and his relatives or associates.
The identity of a third man, a gym owner, is protected by court orders.
The man, who was found to have a degenerative brain disease, was excused from this month's trial.
Jury and Agwu will be sentenced on December 12.