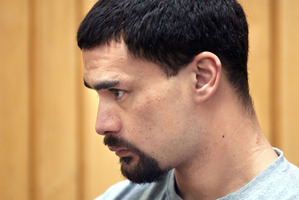 A man who dragged his girlfriend for more nearly 2km behind a car wrote to her from jail and got her to change her statement, a court has been told.
Sonny Te Aramoana Waiti, aged 26, was sentenced in the Rotorua District Court yesterday to six years and five months' prison for kidnapping Rotorua mother Ana Eriepa, 37, on May 25.
Judge James Weir ordered Waiti serve a minimum period of four years.
Waiti, a patched member of the Mongrel Mob, locked Ms Eriepa in a car boot after accusing her of cheating on him. He then drove erratically at high speed along State Highway 1 between Tokoroa and Putaruru.
Ms Eriepa tried to escape but her foot got caught and she was dragged along the road at about 100km/h for nearly 2km before she was thrown free. She suffered injuries over much of her body and her lower leg had to be amputated.
Ms Eriepa, who was in court to support Waiti, handed the judge a statement saying she had got into the boot of her own free will.
Judge Weir disregarded that, referring to a letter Waiti wrote Ms Eriepa from jail in which he told her "you just have to tell the pigs you wanted to be in the boot [and] I never forced you".
The judge said the letter was a "clear attempt to manipulate" Ms Eriepa, who had regularly visited Waiti since the incident. The pair remain in a relationship, with Waiti telling a probation officer he intends to marry Ms Eriepa on his release.
As Judge Weir delivered his sentence, Waiti interrupted and told the judge "you are only seeing this from your high horse . . . I did not force her to write the letter". The judge ordered Waiti be taken to the cells and adjourned court for 20 minutes.
Earlier, Crown prosecutor Amanda Gordon said Waiti had shown little remorse.
She said Ms Eriepa had written a letter "urging the court to take a merciful approach to sentencing".
Defence lawyer Moana Dorset said: "He had no idea and it never occurred to him that she would jump out of the boot. The injuries suffered were not intended by him."
Waiti, who had been released from prison three weeks before the kidnapping, told police at the time he had been smoking cannabis and methamphetamine continuously.
Waiti also told police he had put Ms Eriepa in the car boot "to show her that he loved her".
"That explanation probably gives some insight into your twisted, bizarre thinking at the time," the judge said. He had 25 previous violence convictions.
Outside court, Waiti's former guardian Marie Tai said Waiti was "a good boy".
- APN