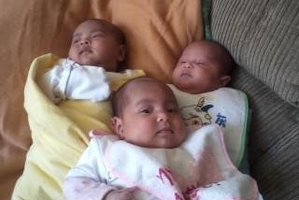 A man who admitted murdering one of his newborn triplets and wounding another is facing life in prison, but has been granted bail.
The decision has outraged victim advocates who say bailing a murderer makes a "mockery" of the justice system.
In the High Court at Wanganui yesterday, Thomas Tamatea Ariki-Nui McGregor pleaded guilty to murdering his 2-month-old daughter Hinekawa Topia in January last year. He also admitted wounding another of the triplets between December 21, 2011, and January 12, 2012.
McGregor and his then-partner Tiffany Topia took baby Hinekawa to Wanganui Hospital after she stopped breathing. She could not be revived and an autopsy later found she had suffered a non-accidental head injury.
McGregor was later charged with murdering the baby and wounding another of the triplets in the month leading up to Hinekawa's death.
However, yesterday Crown prosecutor Lance Rowe said no evidence would be presented for the remaining five charges against McGregor, and he would be discharged on them at sentencing.
Justice Ronald Young agreed to remand McGregor on electronic bail until October 29 - when he must hand himself into police to return to custody until he is sentenced on December 18.
He also lifted name suppression, which was granted to McGregor when he first appeared in court after being charged with Hinekawa's murder last July.
The Sensible Sentencing Trust were baffled by the bail decision.
"Once again we see a judge's decision making a mockery of 'justice',' said spokeswoman Ruth Money.
"How can someone who should get 20-plus years for murdering a 8-week-old baby be granted bail? The public of New Zealand deserves better decision making than this. There is no doubt McGregor will go to prison having plead guilty to murder so the granting of bail is a disgusting decision that should be appealed immediately.
"This ridiculous decision disgusts us. When will the rights of victims and the public come before those who chose to act in such heinous ways?"
It is unusual for a defendant facing a murder charge to be released on bail, but there have been some high profile examples over the last decade.
In 2007 Haiden Davis was granted bail after stabbing Augustine Borrell to death at an Auckland party.
In 2006, Tony David Kereopa was granted bail after he was charged with murdering Pukehina man Julian Chapman Williams. At the time Judge Peter Rollo decided there was "no just cause" to keep Kereopa behind bars.
And in 2011 Cheng Qi Wang was granted bail after he was charged with murdering two men at a million-dollar Mt Albert mansion. Wang was acquitted of murder and instead found guilty of manslaughter by a High Court jury earlier this year.
McGregor is facing life in prison with a hefty minimum non-parole period for his daughter's murder.
After she died the other triplets, both girls, were admitted to hospital to have their health assessed as a precaution, then discharged into the care of Child, Youth and Family.
Ms Topia could not be contacted last night but according to her Facebook page she is now living in Australia and the children may have recently returned to live with her there
- APNZ