The student who wounded two classmates and killed a teacher and then himself on a Nevada middle school campus was 12 years old.
Authorities say they are withholding the Sparks Middle School student's name out of respect for his family. But School District Police Chief Mike Mieras released the seventh-grader's age at a news conference this morning.
District police say the boy brought the weapon used in the Monday morning spree from home. They are still working to determine how he obtained the 9mm semi-automatic Ruger handgun.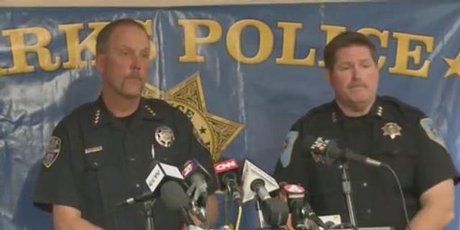 Police say the boy's parents are cooperating with them and could face charges in the case.
Also at the new conference, police lauded the actions of 45-year-old math teacher and former Marine Michael Landsberry. They say he tried to stop the rampage before he was fatally shot in the chest.
Students have posted tributes to him online and a "Rest Easy Mr Landsberry" page has been created on Facebook that refers to him as the "best teacher there ever was". His class website explains his approach to teaching and offers this advice to students: "I have one classroom rule and it is very simple: Thou shall not annoy Mr L."
Students and parents described a terrifying scene as the boy showed up at the school, killed a teacher and then apparently shot himself.
"He shot a student and then a teacher tried to stop him and he shot the teacher," Abner Lopez, father of a 13-year-old eighth-grader, told the Sacramento Bee. "The kids kind of scattered. School was not open yet, so they ran off into the field. It's a pretty tragic scene."
Lopez said his son, Abner jnr, first realised something was wrong when he heard the first gunshots, which apparently were directed at a pupil the shooter knew. "He just heard the gunshots," Lopez said. "Then he saw the teacher telling him to calm down, to put the gun down, and that's when he shot the teacher."
Lopez said his son was in the teacher's maths class along with the suspected shooter.
Kyle Nucum, 13, said he heard a popping sound and saw a young man in school uniform who was about 14 and had a gun. The suspect was confronted by a teacher who was then shot.
"We heard a pop, like a loud pop. I thought it was a firecracker at first."
He and others ran across the street and took shelter in a woman's home.
- MCT, Telegraph Group Ltd