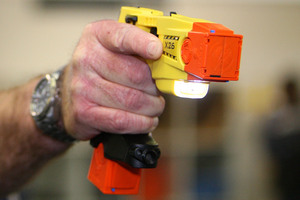 A man who brandished a large piece of burning wood at police officers who were at his house to seize a stereo ended up smashing his own stereo and being Tasered.
The man, Thomas Turetangato Kara, 32, appeared in Napier District Court yesterday where he pleaded guilty to charges of possessing an offensive weapon and resisting police.
A police summary of facts said Kara was at a property in Pirimai on September 7 when police were called to assist noise control in seizing a stereo from the address.
Upon their arrival Kara started abusing the police officers present, yelling and swearing extremely loudly.
He then walked into the shed and picked up the stereo before smashing it on the ground.
Kara was warned about his behaviour and told to sit down which he did.
He became extremely agitated when police arrested a female partygoer for slamming a gate on them.
Kara walked over to a brazier and picked up a large piece of burning wood.
He then approached the officers brandishing the piece of wood in a threatening manner and stating his intention to harm the attending officers.
As he got nearer he threw the piece of wood on the ground at his feet.
Kara was told by police that he was under arrest but he ignored them and continued swearing.
He headed back to the brazier and was presented with a Taser by police.
However, this did not dissuade him and he went to pick up another piece of wood before being Tasered.
The Taser was not entirely effective and he continued to resist before being handcuffed.
His lawyer, Phil Jensen, said his client was ``livid and out of control''.
Mr Jensen said he had been severely punished at home and was ashamed of his actions.
Judge Anne-Marie Skellern said the behaviour was too outrageous to be dealt with by anything less than community work.
He was sentenced to complete 100 hours.
For more articles from this region, go to Hawkes Bay Today