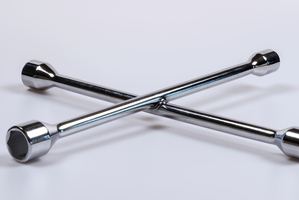 A man who left his victim for dead after repeatedly smashing him over the head with a wheelbrace in Hokitika has been jailed for six years and 11 months.
Simon James Willis, 27, attacked the unnamed man last month after being told he'd stolen money and tobacco from his mother.
Willis and an associate were given a key belonging to the victim and directions to his house. They picked him up, and, on the pretext of going somewhere private to smoke cannabis, drove him to a track that runs parallel to the sea.
There, Willis got out and confronted the man about the alleged theft before punching him about the face and bashing him over the head several times with the wheelbrace.
He and his friend then left the victim unconscious but breathing where he fell.
The Crown and defence lawyer Richard Bodle both recommended a starting point of five to six years in prison.
But Judge Alastair Garland told them to think again during last Friday's hearing at the Greymouth District Court.
"I have seen the x-rays ... all the fractures to his skull. This was clearly a very serious attack - he was fortunate that he did not die," Judge Garland said.
The victim received extensive facial and Nasal fractures, deep lacerations to his to his forehead and internal swelling and haemorrhaging.
He was still on ACC and had suffered long-term physical and emotional consequences.
"He believes that you intended to kill him and leave his body in the river, and that has been playing on his mind ever since," Judge Garland told Willis. "He has poor sight in his left eye, is easily startled, suffers panic attacks and dizziness."
Mr Bodle said Willis had been co-operative with police, making a full and frank admission.
"He absolutely and thoroughly regrets what he did. If he could turn back the clock he would."
Willis admitted a charge of committing grievous bodily harm while armed with a weapon.
He was also sentenced on charges of assault and careless driving. The assault related to a punch-up on a fishing boat.
Willis was a temporary hand on the boat when he took exception to being told by a more qualified deckhand to work in the freezer. The other man, while slicing up bait, had his back to him when Willis king hit him, leaving him with a swollen face, double vision and cuts and bruising.
Willis told police it had been a reactionary backhand blow and was not intended to injure.
He was disqualified from driving for two years on the careless use charge after he lost control at an intersection, allowing his vehicle to crash through an expensive art deco fence.