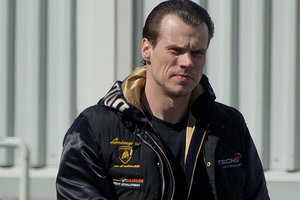 A High Court jury has retired to consider its verdict over an alleged international drug trafficker.
Justice Graham Lang summed up to a jury of eight women and four men at the High Court at Auckland this morning, telling them they had to decide the Crown had proven "beyond reasonable doubt" the eight charges against Lithuanian national Rokas Karpavicius, 33.
"It's not enough for the Crown to prove that he is very likely guilty."
Karpavicius has been on trial for a week after being extradited from Latvia late last year.
He has pleaded not guilty to all eight charges against him relating to importing large quantities of Class A and B drugs from Europe, conspiring to import a Class A drug and money laundering.
Justice Lang told the jury that they were the only independent party who had heard both sides of the evidence since day one of the trial.
They had to remove any feelings of prejudice and sympathy before reaching their decision, he said.
Some members of the jury may have had sympathy for Karpavicius as he was standing trial in a country away from his home, while others may have preconceived prejudices against people who were associated with drugs, Justice Lang said.
They had to find "unanimous views on all the charges" and weigh each on their own issues, he said.
Karpavicius's lawyer Graeme Newell last week said there was no hard evidence to link his client to the charges.
He said his client did not have a personal fortune and any discussions around money between him and criminal godfather Ronald Terrence Brown, in conversations secretly taped by police, were in relation to Karpavicius helping Brown invest his money in Europe.
Brown is serving a prison sentence of 11 years and six months after admitting importing ecstasy, LSD and methamphetamine, and using a passport in a false name.
Earlier in the trial, the court heard Karpavicius' fingerprints were found on a Spanish version of a Harry Potter book which had the Class A drug LSD hidden in the spine.
Mr Newell asked the jury why anyone sending drugs into another country would "allow their fingerprints to be on the book".
He said it was possible someone had taken the book from Karpavicius' Spanish home to import the drugs.
The Crown alleged Karpavicius sent Brown granite statues containing large quantities of MDMA.
Karpavicius was arrested and taken into police custody as he travelled to Turkey. A "red notice" posted by Interpol had alerted Latvian authorities to the serious drugs charges he faced in New Zealand.
Detectives from the Organised and Financial Crime Agency of New Zealand then flew to Latvia to collect Karpavicius and extradite him.
- APNZ