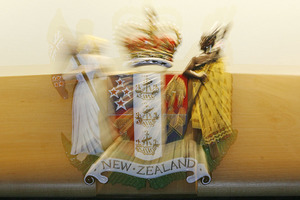 Angry scenes erupted in court yesterday after a murderer who slashed a young mother's throat was told he could be out of jail in 10 years.
Mental health outpatient Paul Gottermeyer had already been sentenced to life imprisonment for what a judge described as a "horrible attack of the utmost gravity".
On July 11 last year he knifed the woman to death in her Christchurch home before her 3-year-old daughter found her lying in a pool of blood.
It wasn't until yesterday in the High Court at Christchurch that the 30-year-old market gardener from Kaiapoi was told his minimum non-parole period will be 10 years.
In reaching his decision, Justice John Fogarty said: "I know it's not going to be popular with the family."
The public gallery, with about 30 family members and friends of the murdered 24-year-old, were disgusted by the decision.
"It's an injustice," shouted one woman.
"If that was your daughter ..." said another.
The disbelief soon soon turned to anger directed at Gottermeyer standing in the dock.
"You're a murderer!" shouted one woman.
"You dirty, filthy rotten bastard, I hope you die," screamed another.
Security cleared the court while further outbursts were directed at defence counsel Tony Greig.
Justice Fogarty reached his conclusion based on the expert opinion of three consultant forensic psychiatrists.
Gottermeyer was an outpatient at Hillmorton psychiatric hospital and all of the experts concluded he had been suffering from severe depression.
But they said it was difficult to say how severe his depression was at the time of the killing, or how much blame for what happened could be apportioned to his depression.
The Crown suggested a starting point for a minimum non-parole period was 17 years. But Justice Fogarty said that sentence "simply cannot be imposed justly" in this case.
Given that Gottermeyer had a previously unblemished record, he believed it was unlikely that he would offend again if his depression was addressed.
"This is conduct out of character. I'm assuming you will recover from your depression over the minimum term of imprisonment," he said.
- APNZ