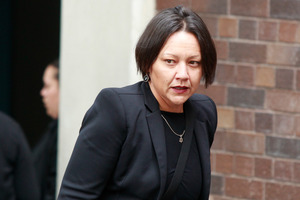 The actions of Davina Murray have forced additional restrictions on lawyers accessing clients in prison, a court heard today.
Murray was sentenced to 50 hours community work in Auckland District Court today for smuggling an iPhone, cigarettes and a lighter to convicted murderer and rapist Liam Reid.
In sentencing today, Judge Russell Collins read an affidavit from Auckland Prison at Paremoremo manager Thomas Sherlock, who said there had been a relationship of trust with lawyers, which allowed them frequent and private access to clients.
"Ms Murray's conduct has caused significant erosion of that trust, and brought the legal profession into disrepute in the eyes of prison staff," he said.
Lawyers now met clients in a booth with a screen between them, and could only pass pre-screened documents through a flap.
"The reality is prisoners are now aware that lawyers visits could be another potential route by which contraband can enter the prison. I must protect against that."
Murray's lawyer Peter Williams QC disputed Mr Sherlock's comments, saying lawyers have never had any special privileges when visiting prisons.
He also rejected Mr Sherlock's claims that cellphones in prisons had potentially dangerous consequences.
"It's also pertinent to note that the cell phone lacked a sim card and a charger, further the cell phone was easily traceable to the applicant," Mr Williams said.
But police prosecutor Anna Pollett said there were "ways and means" of getting access to a cell phone charger in prison.
"It's further noted the evidence of Corrections officers that Mr Reid had pushed an item up his rear end that was never retrieved. Perhaps that was a sim card."
Several affidavits supporting Murray were presented in court, including one from Maori party co-leader Tariana Turia, who said Murray had struck her as being of honest character.
Former MP John Tamihere had offered Murray a job at Waipareira Trust, and said "her ability to provide legal services will make significant contribution to the trust."
Auckland University law faculty associate dean Khylee Quince's affidavit said Murray put her heart and soul into anything she took on, which she said was "a very Maori and very female approach to advocacy."
Judge Collins refused an application for discharge without conviction, saying the consequences of conviction did not outweigh the gravity of the offence.
The most serious aggravating factor was Murray's use of her position as a lawyer to carry out the offending, he said.
She had also falsely accused two prison officers of planting evidence, which had to be weighed against her claims of good character. "That sort of mitigation must be tempered by the fact that to protect her own position, Ms Murray deliberately and falsely accused others."
Judge Collins said Murray had made the job of other "passionate hard-working and undervalued defence counsel" even tougher.
He sentenced her to 50 hours' community work, reduced from 100 hours for being a first offence.
- APNZ