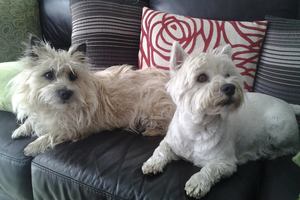 An elderly dog has been viciously stabbed to death by a would-be burglar.
Tiny Jessie, who weighed just 9kg, bled to death at the back door of owner Linda Jones' Weymouth home on September 5. A distraught Jones discovered the 11-year-old west highland white terrier - who suffered 12 stabs wounds, including one to her neck that was so deep it likely severed her spine - when she arrived home from visiting a sick relative in hospital.
"She was covered in blood from head to toe. I just burst into tears ... she was such a pretty dog," she said, looking at a photo of her sweet-natured pet.
"Who could kill that? A scumbag did."
Jones' cairn terrier, Charlie, was also stabbed, but survived, while Jessie's brother Mack was uninjured.
Jones' at first could not understand what had happened, but later discovered someone had used a screwdriver to try and break into the front door of her unit.
Police were called, and confirmed the attempted break-in. A police officer told her the investigation was stalled by Jones' and others contaminating the scene before police arrived.
Jones' believed the burglar or burglars had likely been interrupted by Jessie, her security alarm and a neighbour returning home. It was the first time she had been broken into in nine years living in Weymouth, and three in her unit.
But the former school teacher believed crime was getting worse in the south Auckland suburb.
"This used to be a good area ... but the Thursday after Jessie died, the Weymouth dairy was robbed at knifepoint; a couple on Domain Rd were burgled on Friday or Saturday; and another neighbour behind me has been burgled."
A six-year-old fox terrier vanished from her home in Karaka in late July, before her skinned, mutilated body was found on her owner's lawn a week later. Around the same time two south Auckland pet rabbits suffered the same fate, with one returned to its owner's property with its head and front paws cut off.
An SPCA spokeswoman said yesterday Jessie's death has been passed to an inspector.
The organisation is also investigating the deaths of two labrador puppies, found dumped on a public walkway on Wednesday with severe head injuries.
Meanwhile, Jones is trying to come to terms with Jessie's horrific end.
"I often get that picture of her in my head and I can't get it out. I'd just like to know why?
Why not just burgle the place? I can replace stuff, I can't replace her.
"Why did you have to be so brutal?"
Do you know anything about this incident? Email Cherie Howie at cherie.howie@heraldonsunday.co.nz.