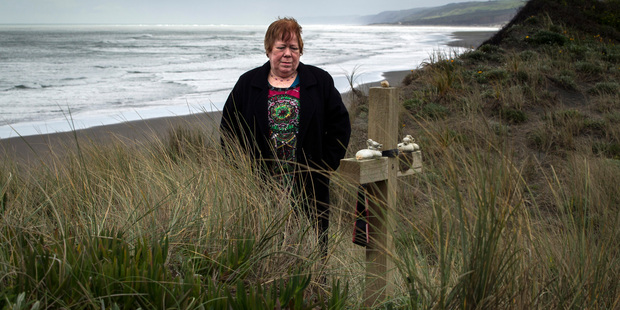 Judith Furlong's eyes light up as she sees the wooden cross nestled between baches and crumbling sand dunes at the estuary town of Port Waikato.
Draped across the sturdy cross is a faded Beatles handbag, a heart-shaped trinket, candles and sandals and other keepsakes left by Jane's friends. There's also a champagne bottle in an ice bucket - perhaps to celebrate what would have been Jane's 38th birthday tomorrow.
"What a life," Judith sighs.
Judith finds it hard to imagine what Jane would have been like at 38. She believes Jane's "wanderlust" would have meant travel had she escaped the cycle of drugs and loser boyfriends.
Jane was a water baby who loved the wild West Coast beaches, says Judith. "She was too dangerous. She had no fear."
When Jane disappeared in May 1993, she was a 17-year-old waif who was caught up in the hard-living K Rd red light scene.
Her remains were found at Port Waikato last May.
Judith has been forced to stand up for herself dealing with bullying criminals and single-minded detectives alike.
She gives matter-of-fact, no-nonsense answers to difficult questions about Jane's disappearance and death. But, like every bereaved parent, Judith has suffered terribly.
She has had a recurring nightmare for many years of her water baby drowning. There are also panic attacks and blackouts.
She fell unconscious one Sunday in 2009 and woke days later in hospital with a tube down her throat. Furlong says she spent 14 months with a tracheotomy assisting her breathing, unable to speak.
Medical professionals have no idea what caused such a swift, mysterious illness.
"Something strange happened to me. To this day they have no idea. All the fancy doctors don't know."
Long before Jane's body was found, Judith would take long drives to nowhere in particular.
"One time I was at Cathedral Cove in the Coromandel and got down to the beach and I suddenly freaked out - I'm here alone. I could get killed out here and no one would know. These things never worried me before."
She hopes finding out what happened to her daughter will help keep the demons at bay.
She gave up speculating long ago, but still the visions pop into her head without warning or welcome.
"You just have thoughts and you wonder where they come from," she says.
Turning off State Highway 1 on to the winding Helenslee Rd to Port Waikato, an image pops into her head.
"Every time I come down here, you think of the car coming down here in the dead of night with a body in the boot."
The road meets the wide expanse of Waikato River and passes fishermen, bridges and riverboats.
Port Waikato wouldn't have changed much in 50 years, except for dunes being eroded by the stiff westerlies that roll in from the Tasman Sea.
It's a sleepy hollow of old weatherboard baches, an ageing population and a cannabis-growing community.
An unrelated missing person notice, faded from the sun, appeals for witnesses in a cafe that shut months ago.
"I get the feeling it's a very closed society," says Judith.
The site where Jane was discovered by a dog-walker 15 months ago has a row of houses overlooking it.
"There must have been a connection to Port Waikato. Why would you bury her in such a built-up area?" asks Judith.
She firmly believes it wasn't a couple of kids with spades who buried her daughter here - it was done professionally.
Jane had been due to give evidence in two trials when she disappeared.
She had been recruited by police to testify against Stephen Collie, a multimillionaire who was later convicted of a string of sex attacks against prostitutes. She was also giving evidence in a separate trial against men with gang connections.
"I always thought she just knew too much about the wrong people," says Judith.
As she marks another of her daughter's birthdays tomorrow, she just hopes one of these wrong people will at last do the right thing and put a mother's questions to rest.